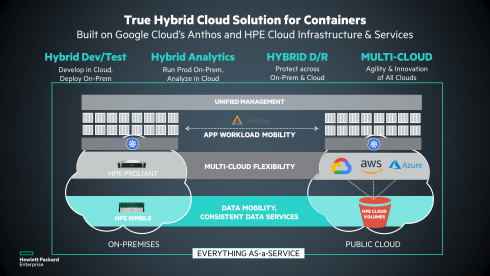 Organizations are starting to turn to a hybrid cloud solution in order to unlock agility and innovation across clouds. But according to Sandeep Singh, VP of storage marketing at HPE, it is a challenge for IT organizations to support the transformation to hybrid cloud. This is because on-premise and public cloud are two completely different arenas, and bringing them together is tough. There is also a skills gap and the fact that resources are tied up in running systems, rather than innovating, Singh explained.
In order to solve some of the challenges of transitioning to hybrid cloud, Google and HPE are teaming up. Together, the two companies will provide their customers with a hybrid cloud solution.
According to Singh, the combined offering will come from Google Cloud's Anthos platform and HPE ProLiant and HPE Nimble Storage on-premises.
RELATED CONTENT:
How Anthos will be a game-changer for your Kubernetes implementation
Google Anthos cloud-agnostic app management platform launched
"What if it were possible to bridge on-premises and public cloud so your data and applications could move more easily across clouds? And do so, not only for today's stateless container applications, but also tomorrow's stateful container applications such as databases where data persistence matters. And, deliver the flexibility to use multi-cloud. You would have a true hybrid cloud," Singh wrote in a post.
The joint hybrid cloud solution will offer benefits such as bi-directional data mobility, application workload mobility, multi-cloud flexibility, unified hybrid management, and pay as you go consumption.
In addition, HPE will be offering advisory and professional services to aid customers in their journey to hybrid cloud adoption.