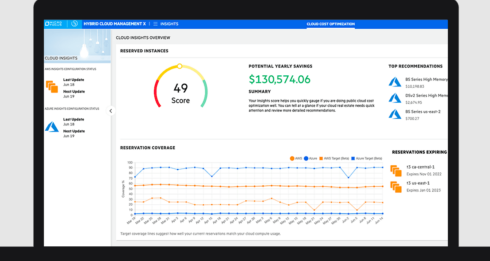 Micro Focus announced the release of Hybrid Cloud Management X (HCMX) FinOps Express, which is a SaaS service designed to help companies reduce their cloud spend by providing management of cloud investments. 
"Among many reasons that organizations move workloads to the cloud is to reduce data center costs, but many organizations do not realize the full potential of savings due to inefficient management of cloud operations," said Travis Greene, senior director of ITOM product marketing at Micro Focus. "HCMX FinOps Express provides CIOs the ability to optimize and operate their cloud in an agile and controlled manner, while involving all the necessary stakeholders."
HCMX FinOps Express offers a complete, unified view of cloud spend by mapping cloud spend to projects, business units, and cost centers. It can also identify inefficiencies by spotting idle, oversized, or over-provisioned resources with reports.
AI-assisted recommendations can additionally help lower cloud rates by as much as 72%, according to the company, and users can put in guardrails to exclude costly or non-compliant options while implementing spending limits. 
FinOps Express is part of Micro Focus' bigger platform, HCMX, which also includes capabilities for multi-cloud design and provisioning, policy-based compliance, and lifecycle hybrid cloud service orchestration.