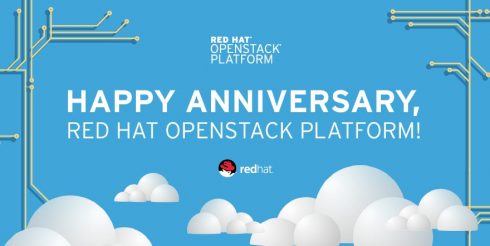 Red Hat is celebrating the fifth anniversary of OpenStack with the latest release of its cloud Infrastructure-as-a-Service solution. OpenStack Platform 13 builds off the OpenStack "Queens" release, and is designed to provide organizations with the foundation to use hybrid cloud for digital transformation efforts.
According to the company, this release features cross-portfolio integration with Red Hat's other cloud technologies such as Red Hat CloudForms, Red Hat Ceph Storage, and Red Hat OpenShift Container Platform.
Red Hat explained the integration with CloudForms will help simplify day-to-day management of hybrid cloud infrastructure. The integration with Ceph Storage will allow organizations to quickly provision hundreds of virtual machines from a single snapshot. Finally, the integration with the Red Hat OpenShift Container Platform will enable Red Hat OpenStack Platform to serve as an extensible platform for cloud-native workloads, the company said.
Red Hat OpenStack Platform 13 adds a new fast forward feature that will enable IT teams to deliver the latest OpenStack updates to their environments with minimal risk. Fast forward provides enterprises with the option of either receiving new features every six months or stay on a supported release for a longer period of time.
"Red Hat OpenStack Platform 13 offers a way for customers to take advantage of the key features of each OpenStack release, without sacrificing stability," said Radhesh Balakrishnan, general manager of Openstack at Red Hat. "With fast forward upgrades, Red Hat is bringing a feature to market that will help to simplify the OpenStack upgrade process for IT operations."
Red Hat OpenStack Platform 12 added containerization of OpenStack services to help increase flexibility for upgrades, rollback, and service management. Red Hat OpenStack Platform 13 builds upon that by containerizing all OpenStack services.
Other features of the release includes tenant-level lifecycle management of secrets through the integration of security projects such as OpenStack Barbican. This integration adds encryption related use cases including Cinder encrypted volume support, Glance image signing, and Swift object encryption. Additionally, OpenStack Platform 13 has increased TLS coverage for internal communication flow.

"An important component of any organization's digital transformation journey should be a modern, flexible, and open infrastructure that can support the next-generation of applications and cloud services," said Balakrishnan. "Red Hat OpenStack Platform 13 is engineered to simplify the deployment and management of such an infrastructure, helping to power the digital transformation of organizations across multiple verticals including telecommunications, financial services, the public sector, and media and technology. With Fast Forward upgrades, Red Hat is helping to simplify the OpenStack upgrade process for IT operators that want to balance stability and the pace of innovation."