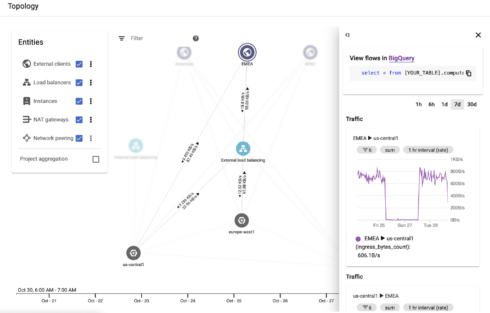 Google has announced a new solution designed to make it easier to monitor network traffic. Its new Network Intelligence Center provides comprehensive network monitoring, verification, and optimization in cloud and on-prem data centers.
According to Google, more and more organizations are adopting multi-cloud strategies, but today's fragmented networking tools lead to a lack of visibility, longer troubleshooting times, configuration errors that aren't discovered until late in production, and no centralized way of understanding network health.
The Network Intelligence Center will help eliminate some of these pain points with modules such as Network Topology and Connectivity Tests.
Network Topology allows IT teams to visualize and navigate their network, simplifying monitoring and troubleshoot, Google explained. It also provides performance metrics for nodes and edges, allowing teams to do things like visualize how users are being served globally.
The Connectivity Test module allows IT to self-diagnose connectivity in GCP or GCP to an external IP address. This will allow them to isolate issues to determine if the issue is with GCP or not.
There are also two additional features currently in alpha: Performance Dashboard and Firewall Metrics & Insights. The Performance Dashboard offers real-time network visibility into packet loss and latency on a per-project basis. Firewall Metrics & Insights will provide visibility into firewall rules usage, which will help IT teams optimize those rules.
"As you build more and more applications on a Google Cloud foundation, you need a network operations solution that lets you easily visualize complex, cloud-based topologies, helps you proactively identify and troubleshoot problems, and assists you in making good decisions when running at global scale. We are excited to see you use Network Intelligence Center to adopt a more proactive approach to monitoring network health and to predict, diagnose and verify your network quickly," Shailesh Shukla, VP of product management – networking at Google, wrote in a post.