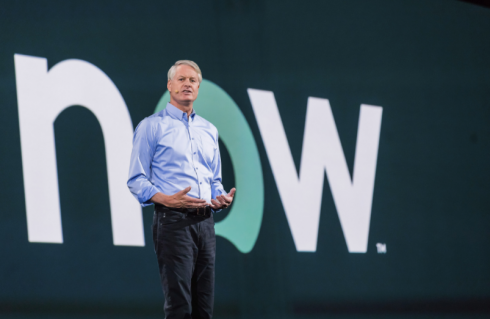 ServiceNow has ambitious plans to roll out new tools this summer aimed at making life easier for IT operations professionals, helpdesk and support agents along with the employees and customers they service.
At ServiceNow's annual Knowledge18 customer and partner conference last week, the company's top officials revealed key deliverables that include an aggressive and high priority push to add more artificial intelligence (AI), machine learning and automation capabilities to its SaaS-based service desk offerings.
The update to the ServiceNow platform, called London, is set for release in the coming months. The London release will include ServiceNow's new Agent Workspace, aimed at helping service agents more easily prioritize tasks and help them find answers to questions in the company's various knowledge bases. The London update will also include the release of a chatbot tool called Virtual Agent, an intelligent interface that will let employees and customers issue requests using conversational models, and a new Enterprise DevOps workflow service that provides software planning, code development, testing, deployment and routine operations management of a deployed app.
John Donahoe, who early last year became ServiceNow's CEO after leading eBay and PayPal for a decade, emphasized the company's mission in his keynote address at Knowledge18: To build on its Now Platform by incorporating advances in technology  including automation, machine learning and AI to deliver services that will provide better work environments.  "In the next 3-5 years, I believe we can change work more than in the last couple of decades," Donahoe said.
ServiceNow chief product officer C.J. Desai said in his keynote session that the company will continue along its path of delivering two updates each year. The most recent update to its portfolio, called Kingston, arrived in January featuring the introduction of Agent Intelligence, the first AI features brought to the Now Platform. This summer, the company will release the next semi-annual update, London, followed by Madrid, New York, Orlando and Paris through 2020.
During last week's conference, which ServiceNow said drew 18,000 attendees, the focus was primarily on the forthcoming London update, though officials also revealed some planned deliverables for next year's Madrid release. ServiceNow, which last month reported $543 million in subscription revenues for the first quarter of its 2018 fiscal year, an increase of 40 percent, is the largest provider of SaaS-based service management software for IT operations professionals and help desk operators to large enterprises.
Agent Workspace: A new command center
The new Agent Workspace will give helpdesk managers and technicians a broader "command-center" view of tickets awaiting resolution. Its workflow engine is designed to prioritize issues, enable better collaboration and reduce the amount of multitasking or the need to use different chat tools, since all will be embedded into the interface, according to Desai. "This is going to dramatically transform the experience of the fulfiller," he said during in his keynote address.
The new Agent Workspace interface will first appear in the ServiceNow ITSM and Customer Service Management (CSM) offerings, and shortly thereafter in its IT operations management (ITOM), HR and its other service desk offerings. "This is probably the most exciting thing that we've put forward in the ops teams in a long time," said Farrell Hough, general manager of ServiceNow's ITSM, ITBM and ITAM business lines, speaking at a breakout session at Knowledge 18.
"It's the command center for prioritizing and taking action," Hough said. Agent Workspace will initially be delivered to fulfillers, the company's term for live agents who handle helpdesk issues, but the company "will be investing in a lot of other roles in IT, to take advantage of this framework," she added. "It doesn't just stop with the fulfiller, it's for every single role in IT. Every single role in the enterprise, will be able to take advantage of workspace as we build it out and scale it."
A feature in Agent Workspace, called Agent Assist, will help agents automatically search and discover documentations and answers to issues based on the context of the trouble ticket.
Virtual Agent: A conversational approach model
While the Agent Workspace will give fulfillers or service technicians the ability to work more efficiently, the new Virtual Agent coming to the London release aims to remove routine tasks from their plates by making self-service easier for employees in an organization. The Virtual Agent brings a more conversational approach to engaging with chatbots using natural language processing (NLP). The company has built this new conversational model into its Now Platform.
The NLP capability in Virtual Agent goes beyond today's crop of chatbots with more intelligence, company officials claimed. Workers with common requests such as password resets or ordering new systems can use the Virtual Agent on a mobile device and can describe the issue as if they were chatting with a live agent.
Desai described the new Virtual Agent as a "rich conversational interface."  Virtual Agent will work with ServiceNow's own chatbots but will also include adapters for other popular alternatives including Slack and Microsoft Teams, with more in the pipeline. "This is not just an ordinary chatbot, it's a rich conversational interface," Desai said.  "You can drive any ServiceNow action via this interface." The chat interface will provide access to any ServiceNow objects, including the knowledge base, he added.
Forrester Research analyst Rob Koplowitz said enabling spoken conversations is a natural extension of intelligent bots in helpdesk environments. "There are many, many instances where virtual agents could handle something that doesn't need to be escalated to a human," Koplowitz said.
Several major suppliers of ITSM and helpdesk platforms are introducing bots and looking at adding NLP interfaces to them, including BMC Software, Ivanti, Micro Focus and Atlassian. For its part, ServiceNow rolled out rudimentary bot capability to its Kingston release back in January with a feature called Agent Intelligence, which introduced supervised machine learning to the orchestration engine that customers can train.
ServiceNow intends to extend the capabilities of the Virtual Agent over the next year. Earlier this month, the company announced it has agreed to acquire Parlo, a company that offers an AI-based NLP workforce solution.
Between 15 and 20 percent of service requests can be automated using conversational bots without requiring assistance from a human agent, according to a ServiceNow study. Should that have IT helpdesk and other service desk professionals concerned that Virtual Agent is the latest effort to automate them out of a job? "We don't believe that," CEO Donahoe said. "We have a deep belief that technology is in service of people and not the other way around. We are saying and declaring that together we want to define a better future of work."
Andrew Wilson, the CIO of Accenture, a ServiceNow partner and customer, joined Donahoe on stage and said that organizations need to adapt to this automation by hiring data scientists and others who can leverage the capabilities of AI and machine learning. "Automation isn't changing the number of jobs available, but it is changing the content of the job, so have a plan for the talent, the technology, the change management and then the communication," Wilson said.
As part of the Now Platform, the Virtual Agent will include the company's Conversation Designer, said ServiceNow CTO Allan Leinwand, in an interview. "When you're chatting, it essentially allows you to have sort of a pre-canned flow or self-defined flow of responses that you could issue back to the user, Leinwand. "It's really helping companies automate basic responses and getting to the right workflow, so you can imagine you know conversations from password reset which is sort of the classic canonical IT."
Enterprise DevOps coming to the Service Desk
In order to achieve the rapid release cadence ServiceNow has committed to, the company now uses DevOps methodologies to build, test and deploy new builds. ServiceNow currently has 1,000 developers creating or updating 80 builds each day with each build going through 80,000 tests. The company's Enterprise DevOps service builds on the company's own best practices.
Pat Casey, senior VP of DevOps at ServiceNow, said the new Enterprise DevOps will provide workflows that support the planning, building, testing, deployment and ongoing operations management of live apps, while allowing rapid iteration with the ability to account for any code interdependencies. "You want the speed of DevOps but you have some roadblocks, you have that lack of visibility that lack of control," Casey said. "This gives you all three."
The Enterprise DevOps offering with this summer's London release will be available to ServiceNow ITBM or ITSA Unlimited customers. It initially will include program planning with ServiceNow's Scaled Agile Framework (SAFe 4.5) and Agile planning with the company's Agile Development, a software development life cycle (SDLC) tool that manages Scrum or waterfall development and the queue of tasks from inception to testing and deployment. The London release of Enterprise DevOps will also provide integration with Slack and Teams.
Next year's Madrid update will extend Enterprise DevOps into the software development and testing aspects and will include integrations with Atlassian's Jira, an Agile planning and issue tracking tool; the Git source code repository and the Jenkins continuous integration and software automation tool.