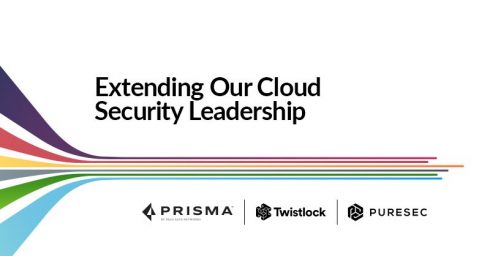 Security company Palo Alto Networks is expanding its security capabilities with the acquisition of both Twistlock and PureSec. Twistlock specializes in container security, while PureSec is focused on serverless security.
These acquisitions align with yesterday's announcement of Palo Alto Networks' Prisma cloud security strategy. Prisma is a cloud security suite that will provide customers with the ability to "govern access, protect data and secure applications." It includes four key components: Prisma Access, Prisma Public Cloud, Prisma SaaS, and VM-Series.
"Today marks another exciting step forward in our commitment to offering our customers the industry's most complete cloud security offering," said Nikesh Arora, chairman and CEO of Palo Alto Networks. "We believe that our acquisition of these leading companies will significantly enhance our ability to be the cybersecurity partner of choice for our customers, while expanding our capabilities and strengthening our Prisma cloud security strategy."
RELATED CONTENT:
Container Security Guide
Container security requires changes in culture more than changes in technology
Container security provider StackRox believes that the acquisition further validates the container security market. "I wouldn't be surprised to see other security vendors acquire a container security vendor in the next 12 months," said Kamal Shah, CEO of StackRox. "Palo Alto's acquisition provides a strong validation of the container security market, its drivers, and its growth."
Dror Davidoff, co-founder and CEO of Aqua Security, agreed, adding that "This provides validation of the market – the acquisition price is very high for an emerging space; a major security player agreed that this market was critical going forward and that the early movers have a significant advantage (or they would have tried to develop it themselves)."
On the serverless side, it will acquire PureSec, which offers end-to-end security for serverless functions, spanning vulnerability management, access permissions, and runtime threats. "PureSec's vision has always been to ensure that all serverless applications will be secured at the very highest level," said Shaked Zin, co-founder and CEO of PureSec. "By joining forces with Palo Alto Networks, we will undoubtedly be able to make that a reality much faster. We are humbled and excited about this opportunity."
It will be acquiring Twistlock for $410 million and PureSec for an undisclosed amount. Both acquisitions are expected to close in Palo Alto Networks' fourth fiscal quarter.