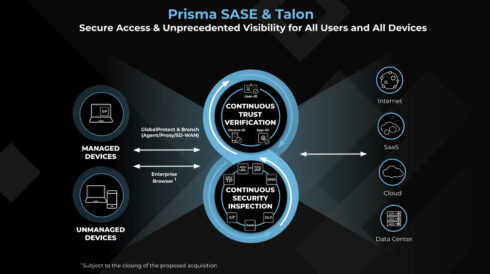 Palo Alto Networks has confirmed its intent to acquire Talon Cyber Security, known for its Enterprise Browser technology. 
According to Palo Alto Networks, the acquisition of Talon's Enterprise Browser will enhance Palo Alto Networks' Prisma SASE (Secure Access Service Edge) solution, which converges network security, SD-WAN, and autonomous digital experience management in a single service. The combination will allow users to securely access business applications from various devices, including mobile and non-corporate devices while maintaining a smooth user experience. 
Talon also offers data security controls within web browsers to prevent data leaks. These controls include measures to restrict file downloads, copying sensitive data, and taking screenshots. Additionally, Talon provides a way to monitor work-related online activities on unmanaged devices while respecting user privacy, ensuring visibility without intruding on personal usage.
Talon simplifies user onboarding for IT administrators by offering a single sign-on (SSO) integration framework across various devices and operating systems. This streamlines the user experience and reduces operational complexity for IT teams.
"While BYOD offers an advantage for productivity, it is also a source of significant security risk. Talon's Enterprise Browser empowers security teams with deep visibility and control over all work-related SaaS and web activity on all devices, including personal and unmanaged endpoints. SASE solutions must evolve to secure unmanaged devices with the same consistent security applied to managed devices so that users can securely access business applications using any device from any location," said Anand Oswal, the senior vice president and general manager at Palo Alto Networks. "The unique combination of Prisma SASE and Talon will transform how organizations navigate the challenges of today's modern and connected digital environments."
Talon Cyber Security, founded by Ofer Ben-Noon and Ohad Bobrov, won the RSA Conference's innovation sandbox contest in 2022. The co-founders will retain their leadership roles and lead their teams within Palo Alto Networks' Prisma SASE team following the acquisition.