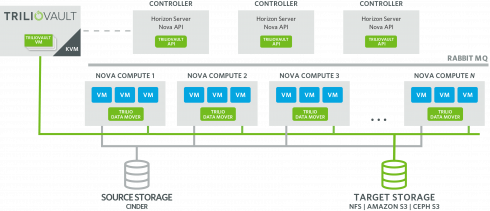 Backup and recovery provider Trilio announced today that TrilioVault 3.2 is now available. TrilioVault is an OpenStack backup and recovery solution that can restore workloads in a single click, the company explained. This release adds features that will enable companies with more advanced architectures to use TrilioVault.
TrilioVault 3.2 builds off the major upgrades that were introduced in TrilioVault 3.0, such as S3 backup target support and full network topologies in workload captures.
Benefits of the new release include cloud infrastructure protection that is built on IPv6, advanced logging and monitoring, better self-service management, compatibility with Cinder storage, version compatibility with OpenStack Rocky, performance enhancements, and improved support for network topology.
According to Trilio, this release brings the company one step closer to offering data protection for OpenStack and RHV users as they build enterprise-grade cloud infrastructures.
"Open source infrastructure is flourishing as a legitimate replacement for dated vendor-locked technology. As part of this shift, organizations are designing advanced architectures with increasingly specialized use cases," says Murali Balcha, Founder and CTO at Trilio. "Trilio is committed to addressing these critical use cases with our cloud-native data protection solution to further legitimize open source technologies within risk-averse enterprises around the world."