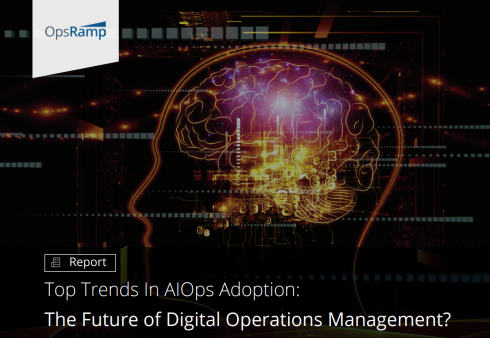 Digital operation teams are ready to take advantage of AIOps. AIOps is a strategy that leverages artificial intelligence and machine learning to automate infrastructure incident management. According to a newly released report from cloud-based IT Ops management platform provider OpsRamp, 68 percent of respondents have reported they are already experimenting with AIOps in some way.
According to OpsRamps, the benefits of using AIOps include weeding out false positives and repeat alerts, and greatly reducing the amount of hands-on manpower required to search out and rectify infrastructure failures. The company went on to explain that IT operators are currently struggling with keeping up with today's vast amount of data.
Many of the 120 IT executives who responded to OpsRamp's "Top Trends In AIOps Adoption: The Future of Digital Operations Management?" survey said the potential for eliminating manual work was the main motivator for giving AIOps a try, with 74 percent reporting that as their primary focus. This was followed by obtaining a faster meant-time-to-resolution (MTTR) at 67 percent, anomaly detection at 58 percent and causality determination at 48 percent.
Sixty-eight percent of businesses already reporting AIOps implementation explain their reasons for adoption were similar, but differed slightly in practice. Data insights proved to be the most common use for AIOps, with 73 percent of those respondents listing it as their primary application, followed by root cause analysis at 68 percent, alert correlation and inferencing at 49 percent, and noise reduction at 20 percent.
While companies' outlooks on AIOps are positive, and many are aware of the potential benefits of implementing an AIOps solution, there were some concerns among respondents that the report found could hold back wide adoption. The accuracy of the systems and detection topped the list of concerns at 54 percent, with the data quality, a skills gap, transparency in machine learning algorithms and the risk of incorrect orchestration rounding out the list of concerns.
Despite these specific concerns, OpsRamp found that respondents hesitant to begin adoption AIOps initiatives were held back more by prohibitive costs, complexity and technological limitations, whether in infrastructure or skills.
The final inquiry of the survey aimed to gauge what companies would need out of AIOps in order to make it easier and worthwhile to implement. The consensus was that a failure alert rate reduced by 25 percent, and easier, more universal deployment and orchestration options would be just the thing.
"The survey data matches what we're hearing from customers," said Mahesh Ramachandran, VP of product management at OpsRamp. "Enterprise IT operations professionals are overwhelmed with alerts and they're challenged to distinguish between legitimate signals and loud but harmless noise. We know from the survey data that even a relatively small reduction – up to 25% – in the number of alerts received by IT Operations teams would be considered a success in terms of a company's AIOps strategy."