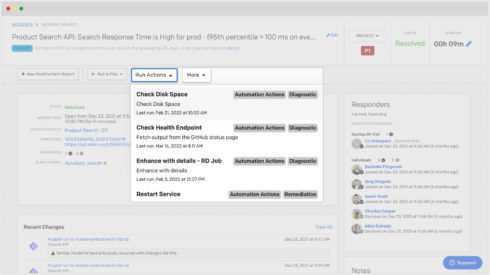 At its annual conference PagerDuty Summit 2022, PagerDuty announced new capabilities to help companies deal with incidents and improve their efficiency in doing so. 
One of the new capabilities is Incident Workflows, which will be available later this year. Incident Workflows utilizes no-code to enable IT workers to add responses that trigger when common incident actions occur. These can include things like sending status updates to stakeholders, or creating per-incident communications channels that add relevant people automatically. 
According to PagerDuty, the addition of Incident Workflows will allow for more consistent and predictable responses across the organization. 
Automation Actions is another new capability that the company provided updates for, and is now integrated into the entire PagerDuty platform. Automation Actions enable IT teams to activate automated diagnostics and remediation. For example, automations can be triggered by events from PagerDuty Event Intelligence.
According to PagerDuty, Automation Actions is useful for running diagnostics to investigate incident state, gain context, or initiate runbook automation.
The company also announced over 22 new features and updates at the event as well. Among them are:
Terraform support for Event Orchestration
Status Update Notification templates
Service Standards
Service Performance reports
Integration with Salesforce Service Cloud Incident Object
"Modern work realities and the systems teams use aren't aligned, and knowledge workers are facing increased operational complexity as a result of continued digitization and a massive influx of data," said Sean Scott, chief product officer at PagerDuty. "Today's businesses must have operations that transform from manual, reactive, ticket queue-based systems to those that are heavily automated and empower proactivity across the entire organization."