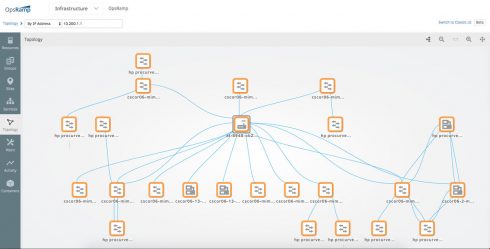 OpsRamp is introducing a number of new IT features in its latest release of its AIOps SaaS Platform. The Fall 2018 release features a new Topology Explorer, improved Service Maps, and cloud database monitoring capabilities.
According to the company, this release focuses on giving modern digital operations teams the ability to discover, manage and optimize their hybrid IT infrastructure. "The OpsRamp platform continues to drive innovation that helps digital operations teams embrace the role of a shared services provider to their business units," said Mahesh Ramachandran, VP of product management for OpsRamp. "Our Fall 2018 release expands on real-time service dependency mapping and multi-cloud infrastructure monitoring capabilities so that modern IT teams can better maintain digital services and deliver more compelling user experiences."
The new Topology Explorer capability is designed for users to create a topology map of apps, network elements and their dependencies. Users can then use that map to define service maps that model logical IT services, OpsRamp explained. Other features of the explorer include the ability to automate infrastructure discovery, visualize critical dependencies between components, and inline alert visualization within service maps.
The release also includes multi-cloud database monitoring for monitoring critical database performance metrics, improved alert management with the ability to pause alerts during maintenance windows, and deeper alert insights and cloud cost reporting for hybrid and multi-cloud environments.
In addition, the company is introducing the OpsRamps Community, a new self-service response for users to find answers to questions and talk about platform functionality.
More information on platform updates is available here.