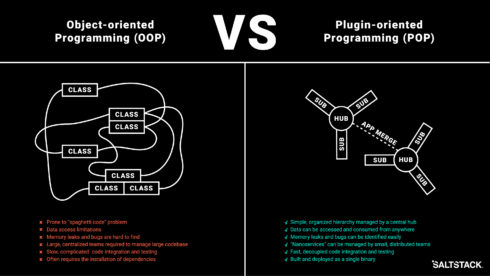 Last week, SaltStack announced the release of three new open-source modules for use with Salt Plug-in Oriented Programming (POP). The three new modules are called Heist, Umbra, and Idem. 
Heist is a plugin system that allows for the development and distribution of agents that enable users to open an SSH tunnel, send a portable agent to a target system, automate change and configuration, and then remove every trace of that agent.
Umbra attaches infrastructure data to AI and machine learning programs, allowing for autonomous infrastructure automation and configuration management. According to SaltStack, Umbra guides users through important IT and security operations decisions. 
Finally, Idem is a declarative programming language that helps simplify tasks such as the enforcement of the state of an application. Other use cases include data processing or complex rules engines for processing files or workflows. 
"The Salt open-source project has created one of the most widely adopted open-source technologies of the last decade with a dynamic and friendly support community. The Salt infrastructure automation and configuration management engine is known for being the most powerful and scalable automation platform in the world and serves as the foundation for SaltStack commercial products," SaltStack wrote in a blog post.