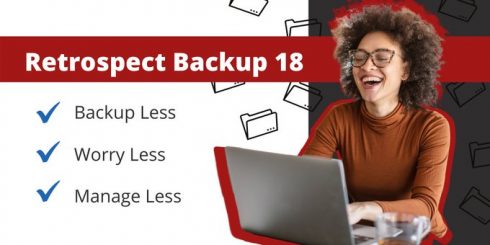 Retrospect Backup 18 and Retrospect Virtual 2021 are now available. Retrospect Backup 18 features new ransomware protections, an improved new first launch experience, better reporting, and cloud data protection across the major cloud providers.
Retrospect Virtual 2021 adds faster backups, improved backup server performance, increased security, deeper data integrity, and broader platform support.  
"Retrospect Backup v18 has been uniquely engineered to integrate seamlessly with this new object lock feature to create immutable backups. Users can set a retention period for immutable backups stored on supporting cloud platforms. Within this immutable retention period, backups cannot be deleted by any user, even if ransomware or a malicious actor acquires the root credentials," said JG Heithcock, general manager of Retrospect, a StorCentric Company. "Retrospect Backup 18's powerful policy-based scheduling allows it to predict when those backups will leave the retention policy and protect any files that will no longer be retained, ensuring businesses always have point-in-time backups to restore within the immutable retention policy window."
Sumo Logic Cloud SIEM powered by AWS now available
The joint solution from Sumo Logic and AWS will enable IT teams to solve modern and legacy security challenges. It provides deep and contextualized insights that will help teams reduce the time spent detecting and responding to threats. 
Other key features include threat benchmarking, data collection from existing security tools, workflow automation, and more. 
AlmaLinux Foundation launches AlmaLinux 8.4 
AlmaLinux is intended to be an open source replacement for CentOS. Key features in the 8.4 release include full support for Secure Boot, OpenSCAP security profiles support, developer repository with extra packages and build dependencies that aren't included in upstream distribution, and new module streams and compiler updates.
"This is our second stable release, since the project was announced in December," said Jack Aboutboul, community manager of AlmaLinux. "Our community, partners and sponsors all worked together, at warp speed no less, to provide the very latest, best and stable community-driven, governed and free open source alternative to the former incarnation of CentOS. The open source world was nervously watching the past few months wondering how feasible this new reality would be, and for us to produce something suitable for real-world, actively-running workloads so quickly and efficiently is truly a testament to our provenance, the power of community and the open source model.