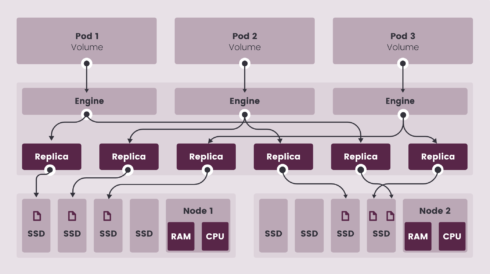 Rancher Labs has announced that the CNCF has accepted its Longhorn project into the CNCF Sandbox. Longhorn is a container storage solution that helps teams manage stateful workloads in Kubernetes.
Longhorn is currently on version 0.6.2 and its key capabilities include enterprise-grade distributed block storage, volume snapshots, built-in backup and restore, live upgrades that don't impact running volumes, cross-cluster disaster recovery, one-click installation, and an intuitive user interface.
"Storage is an important area of the Cloud Native landscape, so I'm delighted that Rancher are contributing Longhorn to the CNCF," said Liz Rice, CNCF TOC Chair. "By becoming a CNCF Sandbox project, Longhorn can help the open source community accelerate the maturity of persistent block storage solutions for Kubernetes."
Moogsoft launches all-in-one AIOps and observability solution
AIOps company Moogsoft has released a new all-in-one AIOps and observability solution, Moogsoft Express. The solution will help SRE teams deliver continuous service assurance throughout the CI/CD life cycle.
Features of Moogsoft Express include intelligent noise-reduction, alert correlation, and native observability capabilities like metrics collection and anomaly detection.
Kontena Lens 2.3 now available
Kontena Lens 2.3 has been released, and the team behind it believes this release is a major evolution of the solution.
Kontena Lens 2.0 was released about a month ago and since then the team has published 19 updates that address over 50 issues. Several of those issues were related to kubeconfig and to the official Kubernetes library itself.
According to the Kontena team, the major enhancement in version 2.3 is improved performance. They also added a feature that allows for the use of custom cluster icons.
SentinelOne granted patent for automated malware detection and remediation technology
Endpoint protection company SentinelOne has secured a new patent for its automated malware detection and remediation technology. The patent is titled "Method of Remediating Operations Performed by a Program and System Thereof."
This is the second patent the company has received, the first of which was granted in October 2018.
"SentinelOne's remediation continuation patent decisively validates the innovative and superior approach we take in delivering combined EPP and EDR technology," said Tomer Weingarten, CEO and Co-founder, SentinelOne. "In addition to best-in-class prevention capabilities, automating manual, time consuming EDR functions is essential to providing security operations with the tools required to negate the widely acknowledged skill and staffing shortage today's SOC teams face. SentinelOne remains steadfast in leading the convergence of EPP and EDR as well as automating machine speed enterprise risk mitigation."