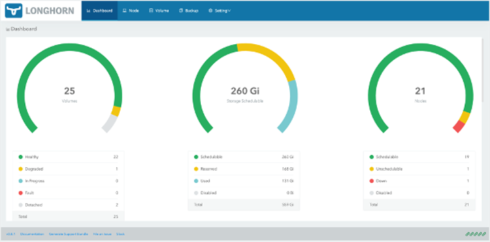 Rancher Labs has announced the release of Longhorn, a storage solution for containers. Longhorn provides "an enterprise-grade, vendor-neutral persistent storage solution that supports the easy development of stateful applications within Kubernetes," Rancher explained.
The GA version being released today includes features such as thin-provisioning, non-disruptive volume expansion, cross-cluster disaster recovery volume, live upgrades of Longhorn software without disrupting running volumes, and full-featured Kubernetes CLI integration. 
VMware announces new infrastructure provisioning capability for AI applications in vSphere 7
This new capability, VMware vSphere Bitfusion, will make it easier to deliver elastic infrastructure on-demand to AI and ML applications.
VMware vSphere Bitfusion makes it possible for organizations to pool GPU resources and share them. Companies will be able to utilize GPUs for applications running in VMs or containers as well, the company explained.
"We aim to deliver the same value to GPUs that we delivered for CPUs," said Krish Prasad, senior vice president and general manager of the Cloud Platform Business Unit at VMware. "By breaking down existing silos of GPU resources, organizations will be able to achieve better utilization and efficient use of them through sharing—resulting in immediate cost savings. More importantly, organizations will be able to jumpstart new or stalled AI/ML initiatives to drive their business forward by sharing those GPU resources with their teams on-demand with VMware vSphere 7."
Cloudian releases HyperIQ
HyperIQ is a monitoring and observability solution for Cloudian storage and other related infrastructure. It provides intelligent monitoring, customizable dashboards, predictive maintenance, and more.
Two versions of the solution are currently being offered. HyperIQ Basic is free and includes pre-configured dashboards, and HyperIQ Enterprise costs $0.025 per GB and includes support and advanced analytics features.
CloudBolt Software announces acquisition of SovLabs
SovLabs is a provider of codeless integration technologies. This acquisition will help CloudBolt customers adopt new technologies and tools such as HashiCorp Terraform, Kubernetes, ServiceNow, and more. 
"We are excited to bring the SovLabs team and its codeless integration technologies to CloudBolt," said Jeff Kukowski, chief executive officer of CloudBolt. "As a world-class VMware technology partner, SovLabs has deep expertise helping vRealize customers maximize the value of their automation projects. With the end of general support for vRealize Automation 7.x approaching, the combination of CloudBolt and SovLabs is in a great position to serve this important base who are looking to migrate to vRealize Automation 8 or invest in complementary cloud management capabilities. Moreover, as CloudBolt and vRealize customers–and enterprises at large–adopt tools like Terraform and Kubernetes for hybrid cloud, our vision of bringing together CloudBolt and SovLabs will help them to better build, deploy, and govern their workloads for the future."