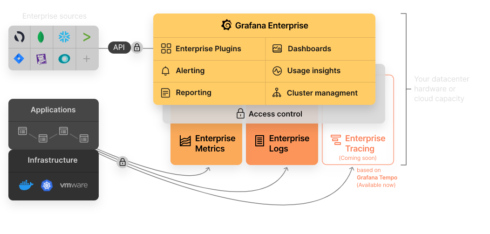 Grafana Labs has announced the release of Grafana Enterprise Stack, which is an observability platform. The new solution includes Grafana Enterprise, Enterprise Metrics, and Enterprise Logs, which is a log aggregation solution based on Loki.  
"At Grafana Labs, we're committed to providing our customers with the choice between cloud-based observability in Grafana Cloud, or the new self-managed option of Enterprise Stack. Whatever our customer's needs may be, we have an observability solution to match," said Anthony Woods, co-founder and CTO at Grafana Labs. "Grafana Enterprise Stack already includes enterprise plugins, enhanced security and reporting that modern organizations are looking for, and the addition of Enterprise Logs brings powerful log aggregation capabilities and even more cost efficiency to the platform."
Solo.io announces Gloo Mesh Enterprise general availability
Gloo Mesh Enterprise is a Kubernetes-native solution for service mesh management, based on Istio and Envoy. It is designed to support users though the process of adopting a service mesh, and provides tools to support developers and operators, and to increase security and observability. 
"We have worked to anticipate, address and exceed our customers' demands and requests when it comes to service mesh and cloud native technologies," said Idit Levine, founder and CEO, Solo.io. "The proof is in the numbers – and in this case, we had more than 2,000 requests to take part in our Gloo Mesh Enterprise beta program, more than 800 stars on Github during Preview and nearly 400 active participants in our beta program Slack channel."
In addition, the company announced it appointed Lin Sun as its director of open source. Sun has worked on Istio since 2017 and is a member of its technical oversight committee. She also worked as a senior technical staff member and master inventor at IBM for over 15 years. 
StorCentric announces QV1020
QV1020 is an all-flash NVMe storage device available on the Violin QV-Series platform. According to the company, benefits of the Violin QV-Series include fast application response, high availability, data protection, data deduplication, streamline management, and enhanced matrixed raid data allocation.
It is ideal for use cases such as OLTP workloads, server virtualization, data warehousing, big data, and cloud infrastructure. 
"NVMe has taken hold in the enterprise, driven by the demands of high-performance applications such as big data analytics, machine learning, artificial intelligence, OLTP and data warehousing and their need for high-speed, low-latency access to storage media," said Surya Varanasi, CTO of StorCentric. "The Violin QV1020 answers the call for these exact same NVMe capabilities, but for companies that have smaller capacity requirements with corresponding pricing."