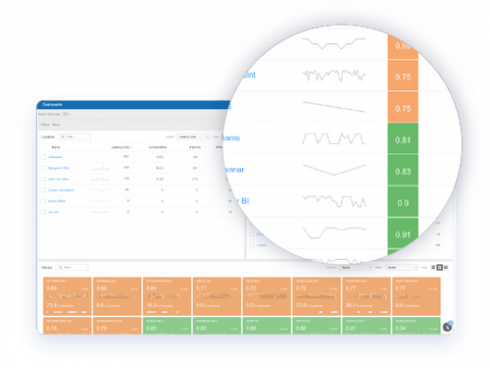 Catchpoint has announced a new solution that will bring together real user, active, and device monitoring into a single solution. DEX Sonar provides end-to-end visibility into the Digital Employee Experience (DEX), Catchpoint explained.
"Employees are increasingly reliant on SaaS applications, so disruptions like outages or slowdowns equate to lost productivity, employee dissatisfaction, and potentially lost business," said Mehdi Daoudi, CEO of Catchpoint. "We built our DEX platform to help enterprises take back control of SaaS applications, preempt incidents where possible, speed mean time to repair and hold vendors accountable to service level agreements (SLAs)."
Trifacta announces new integration with Snowflake
Trifacta has announced a new integration for the cloud data warehouse, Snowflake. This integration will allow organizations to reduce the time it takes to get insights. It also extends the company's support for data preparation in the cloud.
"As organizations modernize their approach to data and analytics, they are moving to data lake architectures and are increasingly leveraging powerful, cloud native services like Snowflake. This not only gives them better economics, but also increases their agility, allowing them to focus on driving value from analytics rather than managing infrastructure," said Adam Wilson, CEO of Trifacta. "As the leader in data wrangling, we're excited to accelerate these efforts by introducing the first cloud data preparation platform optimized for Snowflake. Trifacta's native integration for Snowflake's Cloud Data Warehouse will enable self-service cleansing and transformation, empowering broader communities of data analysts, data scientists and data engineers,  to refine raw data and build new data products faster than ever before."
AppDynamics launches new Integration Partner Program
AppDynamics has announced the launch of its new Integration Partner Program. AppDynamics hopes this new program will help accelerate AIOps adoption.
The company has selected vendors for the partner program that will address critical needs in the enterprise. Founding members include Apica, Atlassian Opsgenie, BigPanda, Evolven, Harness, Moogsoft, PagerDuty, Turbonomic, Virtual Instruments and xMatters.
Sensu announces new multi-tenant cloud monitoring solution
Sensu has announced a new multi-tenant cloud monitoring solution for managed service providers (MSPs). According to Sensu, this new solution will provide MSPs with a better way of monitoring dynamic workloads and infrastructures for multiple customers.
Key benefits of the solution include multi-tenancy, customizable templates, and the ability to specify different policies for each customer.
Zebra Technologies announces new data capability
Zebra Technologies has announced a new data capability in its edge platform for data. The new capability will allow organizations to make intelligent edge data available through APIs to vendors and software developers.
"Savanna Data Services enable the creation of bespoke, innovative and compelling solutions that will revolutionize how enterprises operate," said Drew Ehlers global director of portfolio marketing, enterprise software,  and office of the CTO for Zebra Technologies. "Our new developer experience allows users to exclusively leverage intelligent edge device data along with third-party data services via APIs through the Savanna platform to completely transform workflows, identify supply chain bottlenecks and produce outstanding business outcomes."