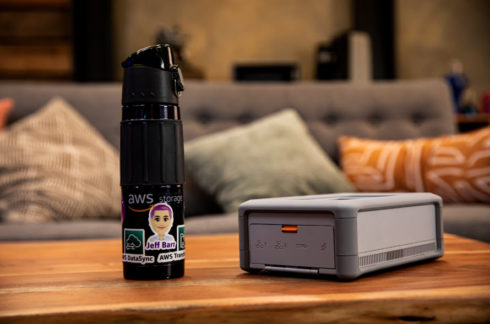 Amazon has introduced a new device to its AWS Snow Family of edge computing devices. AWS Snowcone is the smallest device in the family, at 4.5 pounds. It offers 8 terabytes of usable storage.
According to Amazon, AWS Snowcone is particularly well suited for tight spaces or scenarios where portability is important. It can be used for data migration, content distribution, tactical edge computing, healthcare IoT, industrial IoT, transportation, logistics, and autonomous vehicles. 
Intel introduces 3rd Gen Intel Xeon Scalable processors
The new processors are designed for AI and analytics workloads to run on them. They are well-suited for applications that include capabilities like image classification, recommendation engines, speech recognition, and language modeling. 
Other new releases include new Intel Optane persistent memory, Intel 3D NAND SSDs, Intel AI-optimized FPGA, OneAPI cross-architecture development, and enhanced Intel Select Solutions portfolio. 
"The ability to rapidly deploy AI and data analytics is essential for today's businesses. We remain committed to enhancing built-in AI acceleration and software optimizations within the processor that powers the world's data center and edge solutions, as well as delivering an unmatched silicon foundation to unleash insight from data," said Lisa Spelman, Intel corporate vice president and general manager, Xeon and Memory Group.
EfficientIP releases new cloud management solution
The new service, Cloud IPAM Sync, provides IT operators with greater control over applications that are hosted in multi-cloud environments. 
It provides a single source of truth for visibility into environments, helping IT operators detect unknown resources and combat shadow IT. This also helps them optimize resource utilization, decrease costs, and improve capacity planning. 
ServiceNow releases contact tracing app
Some employees are returning to work, but the coronavirus isn't gone. Contact tracing allows organizations to identify potentially exposed employees based on workplace data. The app also facilitates follow-up activities after potential exposures, such as interviews, check-ins, location sanitizing, and closure. The app also provides insights into the risks of remaining open. 
The app is generally available now, and ServiceNow plans on making updates to it twice per month to support changing conditions.