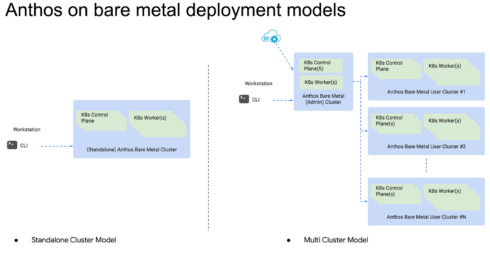 Google has announced that Anthos is now available for bare metal, opening up new possibilities for how to run workloads. Using Anthos on bare metal enables organizations to utilize their existing investments in hardware, operating systems, and networking infrastructure. 
Anthos can be deployed on bare metal using either a standalone deployment model where every cluster is managed individually, or a multi-cluster model, where a central IT team can manage a fleet of clusters from a centralized admin cluster. 
"No matter where you run your workloads—in Google Cloud, on-prem, in other clouds or at the edge—Anthos provides a consistent platform on which your teams can quickly build great applications that adapt to an ever-changing world. We developed Anthos to help all organizations to tackle multi-cloud, taking advantage of modern cloud-native technologies like containers, serverless, service mesh, and consistent policy management; both in the cloud or on-premises. Now, with the option of running Anthos on bare metal, there are even more ways to enjoy the benefits of this modern cloud application stack," Amr Abdelrazik, product manager of Anthos and Richard Seroter, director of outbound product management, wrote in a post.
GoSecure raises $35 million in Series E funding
The company will use the new funding to increase awareness and adoption of its approach to managed detection and response (MDR).
The round was led by W Investment Groups, with guidance from Yaletown Partners who led the initial Series E round in June. 
"GoSecure continues to add new customers at the highest rate in our history," said Neal Creighton, CEO of GoSecure. "Based on the detection and response platform we've built, customers see the value of GoSecure MDR immediately and rest comfortably knowing they are protected by the best people, processes, and technology in the market. W Investments Group brings a wealth of experience that will be vital in helping GoSecure increase the awareness and adoption of our market-leading approach to Managed Detection and Response."
EclecticIQ raises $24 million in Series C funding
The European security company provides threat intelligence, hunting, and response technologies. It will use the funding to expand its portfolio and increase its global footprint.
This round was led by Ace Management, with Capricorn Digital Growth Fund and Quest Growth, Invest-NL, Arches Capital, INKEF Capital, KEEN Venture Partners and KPN ventures.