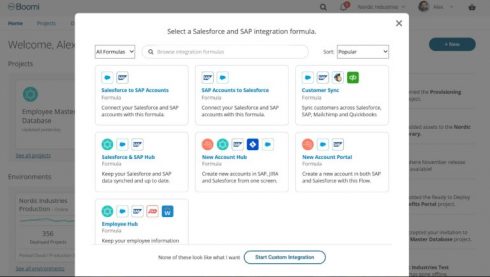 Dell Boomi made a number of new updates and improvements to its Boomi platform at the Boomi World conference in Las Vegas this week. The company laid out its vision for reinventing the iPaaS industry, added new capabilities to Boomi, and launched a new partner program.
In the next few months, the company will work to incorporate its iPaaS vision into the Boomi portfolio. It announced plans to add improvements to the user interface, community intelligence, collaboration features, and blockchain integration.
"iPaaS is no longer just about integration, it is about pervasive connectivity and business transformation. If a business simply emphasizes the ability to integrate, then it is only focusing on a piece of the puzzle," said Steve Wood, chief product officer at Dell Boomi. "Boomi offers an iPaaS platform that delivers transformation by connecting people as well as data. The iPaaS of today will not be the iPaaS of tomorrow and it is Boomi's vision to redefine the market in order to provide the best integration cloud technology to our customers and partners."
It added several improvements to its enterprise iPaaS portfolio, including Boomi Connect Now, Boomi Data Services for Pivotal, Boomi API Gateway and Developer Portal, Bot SDK and new Professional Services offerings.
Boomi Connect Now enables customers and partners to provide centralized self-service offerings for users that do not have integration experience.
Boomi Data Services for Pivotal will provide customers with faster deployment of the Boomi iPaaS and the ability to rapidly respond to changing customer needs.
The Boomi API Gateway and Developer Portal will give customers the ability to engage at scale with their API consumers.
Bot SDK is an accelerator toolkit that contains everything needed to build a bot, enabling faster time to market.
Other professional services offerings include Boomi Enterprise Innovation Services, Architectural Services, and Blockchain.
Dell Boomi also announced a new technology partner program to accelerate the rate of innovation on and around the Boomi platform.
"Boomi has always been an open platform. The more, strong partners there are who continue to deliver value-added adjacent solutions to the platform, the more successful our customers are going to be with their transformation projects," said Dave Tavolaro, vice president of business development for Dell Boomi. "This specialized partner program is aimed at giving Boomi technology partners the training, support and resources they need to meet rapidly growing demands from customers that want to build connected businesses."