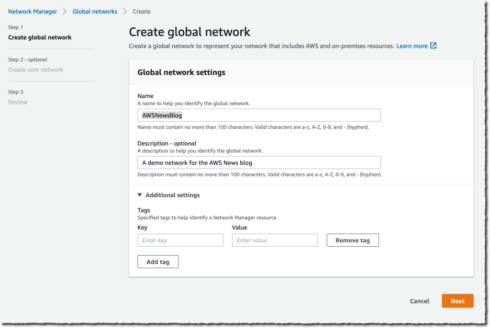 AWS has just announced the availability of AWS Cloud WAN, which is a new managed service aimed at helping customers build and operate wide area networks (WAN). 
These networks can be used to connect data centers, branch offices, or any location where a company has resources they want to connect. Typically, to connect these, network teams have to build their own networks using different networking, security, and internet services from a number of different providers. Because they're dealing with different providers, this can present challenges when each provider has different approaches they follow. This leads to "an intricate patchwork of individual networks that are complicated to configure, secure, and manage," Sébastien Stormacq, principal developer advocate at AWS wrote in a blog post. 
As new locations or resources are added, complexity increases, and AWS Cloud WAN hopes to eliminate this complexity. It will allow companies to connect to AWS through their choice of a local network provider. Then they can use a central dashboard to create a unified network, rather than having to configure and manage each individual network. 
AWS explained that Cloud WAN offers network isolation, which allows companies to segment network traffic. For example, a retailer could isolate payment processing from other traffic on their network.
According to AWS, the four main benefits of Cloud WAN include:
A centralized management and network monitoring dashboard
Centralized policy management
Multi-region VPC connectivity
Built-in automation
Read AWS's blog post announcing Cloud WAN for more information on how to get started.