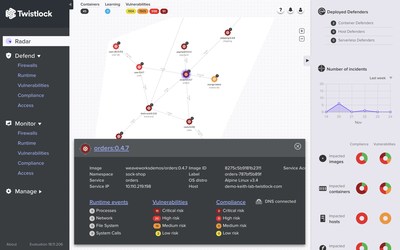 Twistlock announced the latest release of its container and cloud-native security platform with new support and features for hybrid cloud, Kubernetes and serverless. This is the company's 15th major release in the last three years.
"Since we shipped the first version of Twistlock in 2015 we've worked on 11,100 issues, pushed 5,800 commits, built Twistlock more than 900 times, and shipped over 300 customer-requested features to a couple hundred customers," said Ben Bernstein, CEO for Twistlock.
To enable users to discover cloud-native services and protect against and understand the threats facing hybrid cloud environments, the 18.11 release features new cloud platform compliance across AWS, Azure, Google — all counts and in every region. "Cloud Provider Compliance continuously monitors these accounts to detect when rogue services are added and continuously reports on which services are unprotected. Cloud Provider Compliance can send alerts when a new service is discovered so you always know what's running and can avoid risks introduced by rogue deployments, abandoned environments, and environments not being protected by Twistlock," John Morello, CTO of Twistlock, wrote in a post.
In addition, the compliance features include support for container image registries, container-as-a-service platforms, managed orchestration platforms and serverless platforms.
The release also expands its support for Pivotal Cloud Foundry with the Pivotal Application Service. The latest release enables Twistlock to be installed directly from the Pivotal Network marketplace, and deployed natively into Pivotal Cloud Foundry.
Twistlock also brings support for the popular microservices service mesh Istio with the ability to discover Istio and provide compliance and secure configuration checks for Istio.
For Kubernetes, 18.11 includes service account monitoring to visualize and understand its scope at scale.
Other features include updates to Radar, UI and UX improvements, new monitoring and alert support, and an improved credential manager.
"While the adoption of Kubernetes and cloud-native technologies for production workloads has increased exponentially, security and compliance remain key hurdles to mass production deployments," said Fernando Montenegro, security analyst for 451 Research. "Twistlock has shown momentum with the cloud providers, ISVs, and open source tools driving the cloud native movement. We believe that this coming year we'll see more emphasis on security for containers and cloud native applications than ever before."