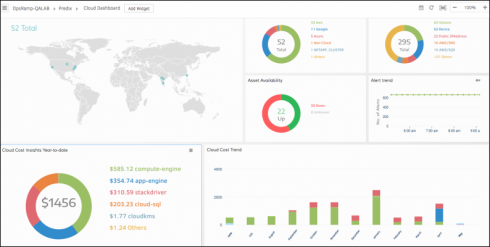 OpsRamp has announced a major update to its SaaS platform. OpsRamp 5.0 is designed to provide greater visibility for multi-cloud environments and includes a new AIOps inference engine.
According to the company, this release will enable enterprise IT teams to optimize cloud costs, speed up incident response, leverage data-driven insights for IT operations and embrace service-centric management.
In the 5.0 release, the Multi-Cloud Visibility Widget includes three new widgets: the Global Assets widget, the Cloud Cost Insights widget, and the Cloud Cost Trend widget. The Global Assets widget shows a geographical distribution of IT assets across datacenter and cloud environments. The Cloud Cost Insights widget shows up to date public cloud spend, including breakdowns by cloud account, by customer attributes, or other criteria. The Cloud Cost Trend widget shows public cloud cost trends over time and allows IT teams to see cost trends by resource type, custom attributes, and other criteria.
It also adds a AIOps inference engine, which allows customers to learn how events correlate and focus on the alerts that matter most, as well as better reporting and redesigned service maps.
In addition, OpsRamp has expanded integrations such as 46 Microsoft Azure, 28 AWS, and 15 Google Cloud Platform integrations. New integrations with this release include Google Stackdriver for hybrid monitoring, ManageEngine ServiceDesk Plus for enhanced service delivery, and Micro Focus Operations Manager i.
"The OpsRamp platform processes billions of metrics per day in real-time, across global 1,000 enterprises and hundreds of managed services providers," said Mahesh Ramachandran, VP of product management for OpsRamp. "OpsRamp 5.0 is a major milestone for our team, enabling customers to truly understand the makeup of their hybrid infrastructures, including multi-cloud spend visibility. Our latest release delivers the foundation for automated IT infrastructure management, driven by deeper cloud visibility and AI and machine learning capabilities."