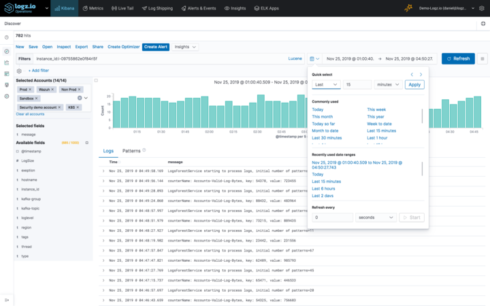 Logz.io has announced a new Cloud Observability Platform that will allow engineers to reduce time to resolution, increase productivity, and integrate security into DevOps workflows.
The solution is powered by Kibana and Grafana, and is a fully-managed solution for developers. It provides a single pane of glass for monitoring, troubleshooting, and securing distributed workloads on cloud.
According to Logz.io, as companies begin to build and ship code faster, they use technologies like Kubernetes and serverless, which results in distributed, abstracted and hard-to-monitor application stacks. Teams try to solve these issues with open-source tools, but those types of tools can often be hard to scale and maintain, the company explained. Logz.io's Cloud Observability Platform will allow those teams to use those open source tools, without the added complexity of managing and scaling them.
According to Logz.io, this solution is the culmination of three other products: Logz.io Log Management, Logz.io Infrastructure Monitoring, and Cloud SIEM. Together, these three solutions provide visibility into every layer of the environment.
"As today's builders and creators, developers rely on open source for its flexibility, creativity and innovation, but scaling, managing and hosting Open Source monitoring and logging tools can be resource and time-intensive," said Tomer Levy, CEO of Logz.io. "We firmly believe developers are most productive when they are free to use community-driven, open-source tools, but we recognize the challenges that come along with scaling these solutions to fit businesses. We built the Logz.io Cloud Observability Platform because we want every software engineer in every company to have access to tools like ELK and Grafana without being bogged down by maintenance or scale."