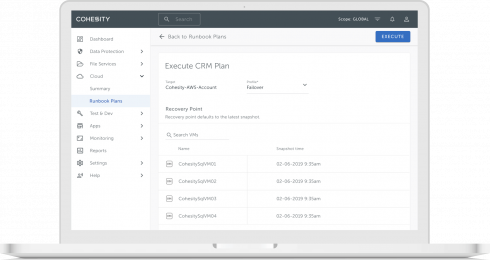 Cohesity has announced a new application that aims to make it easier for organizations to move their applications to the cloud. Cohesity Runbook provides an automation design canvas that makes the process simple, the company explained.
Other key features in Cohesity Runbook include APIs for integrating with infrastructure-as-code automation tools and the ability to spin up new environments quickly.
"The complexity and manual tasks associated with moving workloads to the cloud is a critical challenge for enterprises that want to take a modern approach to their infrastructure, and without the right automated tools, the problem is just going to get worse," said Raj Rajamani, vice president of products for Cohesity. "The Cohesity Runbook application gives IT administrators the ability to create their own precise, step-by-step blueprint that makes it easy for their organizations to take advantage of the cloud for application migration and failover."
Device42 announces integration with Microsoft Azure Migrate
Device42 has announced a new integration with Microsoft Azure Migrate. The new integration will provide migration assistance for organizations that are moving their workloads to Azure.
Azure users can add Device42 to their Azure account directly in only a few steps. Then, Device42 will be available for installation in their data center. Device42 will offer recommendations, such as instance and disk sizing, to Azure Migrate, which will simplify the migration process, the company explained.
Druva to acquire CloudLanes
Cloud data manager Druva is acquiring CloudLanes. CloudLanes also provides cloud data protection, and its solutions allow for seamless movement of data. According to Druva, this acquisition will enable them to expand to the edge.
"Businesses are looking for greater flexibility and more cost effective ways to manage their backup data, and are increasingly looking to the cloud," said Abhijit Dinkar, co-founder and CEO of CloudLanes. "CloudLanes' innovative approach to data migration enhances the Druva Cloud Platform and will bring enterprises a novel and powerful new approach to data protection and management."
FixStream partners with Excalibur Data Systems 
FixStream has announced a new partnership with Excalibur Data Systems. Together, the two companies will work to enable customers to more rapidly find, predict, and resolve ITSM issues.
FixStream's AIOps+ platform provides auto-discovery and dependency mapping, and allows users to "correlate compute, network and storage entities with business applications."
"By detecting incidents earlier and improving the efficiency of investigating incidents with AI to see through the noise, companies can now help reduce the cost and impact of system outages," said Sameer Padhye, founder and CEO of FixStream. "Our partnership with Excalibur Data Systems leverages machine learning with workflow automation to help IT Service Management increase its efficiency, reduce operating costs and increase overall business agility."
MobileIron announces zero sign-on technology for cloud services
MobileIron has announced that it is releasing a zero sign-on technology for authenticating cloud services. With this new solution, users will be able to login to SaaS applications from any computer, using their iPhone as their identity, rather than a password.
This is an extension of its Access product, which was introduced in 2017. Access allowed for zero sign-on to cloud services on managed devices.
Exadel launches CrossKube for Kubernetes deployments
Exadel has announced a new Kubernetes solution called CrossKube. CrossKube is a packaged solution that enables organizations to deploy everything needed for cloud-based applications.
The solution includes best practice templates for Kubernetes, microservices, containerization, application discovery, database connectivity, front-end application structure, and automated testing. CrossKube is also cloud-agnostic, allowing customers to deploy Kubernetes to any cloud provider.