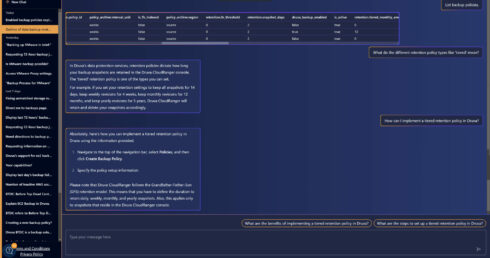 The data backup company Druva is hoping to provide customers with a more seamless way to engage with their backups with the introduction of its generative AI interface, Dru. 
The new conversational AI capabilities will enable customers to reduce protection risks, gain insights into their protection environment, and navigate their solution in a customized interface. 
Dru offers interactive reporting where IT professionals can request custom reports and then ask follow-up questions to refine the reports. The reports will also include suggestions on how to remediate backup failures. 
The AI can also analyze logs and troubleshoot errors, and the conversational nature will make it easier for IT teams to find the information they're looking for. 
Dru provides recommendations and best practices that are tailored to an IT team's specific environment, including information on how to make use of advanced functionality of a system.
It can also help with admin tasks, like creating new backup policies and triggering backups of specific workloads. 
For security and privacy purposes, Dru doesn't have access to customer data. The AI's learning process also respects user control and permissions, Druva claims. 
"We believe that the future is autonomous, and Druva is committed to pushing the forefront of innovation. We are listening closely to customer pain points and being thoughtful with how we build and incorporate Dru into our platform to ensure we're solving real-world problems," said Jaspreet Singh, CEO at Druva. "Our customers are already leveraging the efficiency benefits of our 100% SaaS, fully managed platform, and now with generative AI integrated directly into the solution, they can further expedite decision-making across their environment."