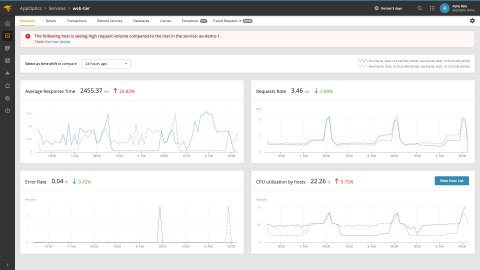 IT management software provider SolarWinds has announced updates to its infrastructure and APM solution, AppOptics. With this latest update, AppOptics will make "application troubleshooting simpler, faster, and more accurate." 
This release introduces service- and trace-level root causes analysis, helping to lower the complexity of APM and lower the barrier to entry. This new functionality will tell IT professionals where and when issues are arising, no matter what application architecture is in use, the company explained.
More specifically, service-level root cause analysis helps reduce the number of steps required to identify a problem and quickly resolve it. Trace-level root cause analysis enables IT professionals to drill down into application metrics with code-level visibility into issues.
"The ability to decode APM data to troubleshoot an application has required skills that ultimately leave much of the analysis and problem-solving to individual interpretation that eats up a significant amount of time and resources," said Jim Hansen, vice president of products and application management at  SolarWinds. "With the AppOptics service- and trace-level root analysis updates, we're removing that barrier by doing the heavy lifting of showing and explaining what the problem is within an easy-to-understand dashboard. SolarWinds is helping more tech pros, who may still be cultivating deeper APM expertise, implement the tenets of APM strategies—deepening our commitment to empower tech pros with easy to use, powerful, and affordable tools that they need today."