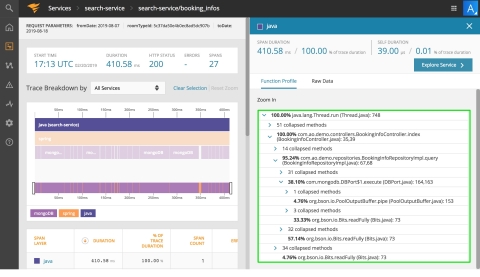 SolarWinds announced the release of its free AppOptics Dev Edition, a free infrastructure and application performance management (APM) solution, It is designed to be a "scaled-back version well-suited for development environments" that offers the same features as the full version.
"The need to manage custom business applications is on the rise, placing new pressures on tech pros to monitor the performance and availability of apps in hybrid and cloud-native environments," said Denny LeCompte, senior vice president and general manager of application management at SolarWinds. "SolarWinds is helping tech pros ease this burden and overcome the cost and complexity traditionally associated with most APM tools available on the market by offering free access to its AppOptics APM features and functionality."
The AppOptics Dev Edition includes comprehensive troubleshooting with combined distributed tracing, live code profiling and exception tracking to identify performance issues down to the line of code; the ability to measure infrastructure, application and business performance; and a dev environment focus.
The free edition also comes with up to five traces per minute, 100 metrics, three hosts, and six containers.
AppOptics aims to help users prove where and when the end-user experiences do not meet intended-for service levels and then provides insight into the root cause of performance bottlenecks, the company explained.
"Whether a tech pro is just getting started with APM or if they're looking for a means to test and troubleshoot apps before production, the AppOptics Dev Edition provides real value for a variety of business application use cases," LeCompte added.