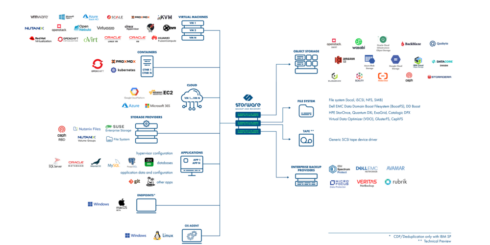 The latest version of Storware's backup and recovery solution is now available. In Storware Backup & Recovery 6.0, several features have been added, including OS agent support in Linux and Windows, enabling companies to now protect their data at the file level. 
Another addition in this release is tape support, now available in technical preview. This allows users to set backup destinations for tape pools, helping further protect virtual machines, applications, and storage instances.
The company has also added OpenShift Virtualization support, allowing companies to safeguard virtual machines in OpenShift environments. This will also include support for incremental backups, which helps save on space and increases efficiency. 
Storware Backup & Recovery 6.0 also introduces backup and recovery for stateful sets in container deployments, helping companies make their containerized applications more resilient. 
Finally, the latest release introduced support for OpenNebula, which is an open-source project for cloud and edge computing. 
Other improvements include new Role-Based Access Control objects, a new wizard for configuring DD Boost backup destinations, Keycloak integration, and automatic clean-up of virtual machines once instant restore mounts aren't needed anymore. 
"We are delighted to unveil Storware Backup & Recovery 6.0, a significant milestone in our ongoing commitment to delivering industry-leading data protection solutions," said Jan Sobieszczanski, CEO of Storware. "This latest version reinforces our dedication to innovation and customer-centricity, offering an impressive suite of features to meet the evolving needs of businesses across various sectors."