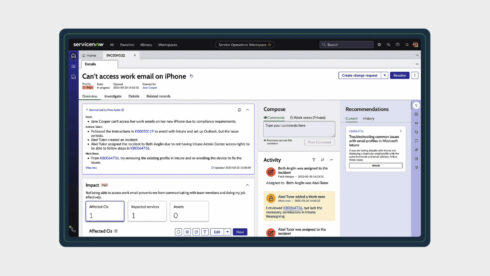 ServiceNow has introduced generative AI into a number of its products across the Now Platform family: IT Service Management (ITSM), Customer Service Management (CSM), HR Service Delivery (HRSD), and Creator. 
Now Assist provides features like virtual agents, search capabilities, and case, incident, and agent chat summarization. 
Now Assist for ITSM provides summaries of incident history and a live virtual agent that can help deliver answers to help IT teams resolve issues and requests faster. Once an incident is resolved, it can also generate contextual summaries and resolution notes, helping teams improve for the next incident.
Now Assist for CSM enables a self-service experience for customers. They will gain access to resources that will help them find answers faster. It also generates summaries of chats, which helps IT teams resolve customer issues faster.
Now Assist for HRSD enables HR teams to handle issues like payroll discrepancies or paperwork changes, by reviewing summaries of case topics, history of live chats, and previous resolutions and actions taken. 
And finally, Now Assist for Creator helps developers more quickly create applications in the Now Platform. It includes a text-to-code feature, which generates code from natural language prompts. 
"Organizations are seeking a trusted partner to help them navigate this dynamic and fast- moving era of intelligence," said CJ Desai, president and chief operating officer of ServiceNow. "ServiceNow has thousands of customers already using the Now Platform to digitize and streamline processes across the enterprise. With our Vancouver release, we're combining the power of the Now Platform with new generative AI features to bring AI-driven intelligence to every corner of the business, creating a catalyst for productivity and better enterprise experiences."
The news is part of ServiceNow's Vancouver release of the Now Platform to help companies address development skills gaps.