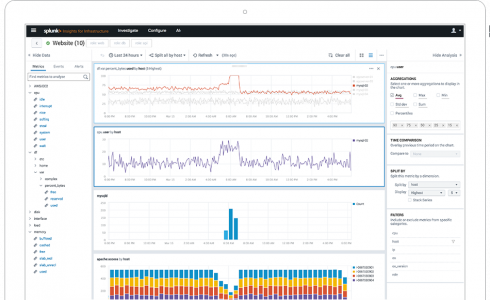 Splunk has announced the general availability of Splunk Insights for Infrastructure, which is designed to be a low-cost solution for automatically correlating metrics and logs to monitor IT. It was created with system administrators and DevOps teams in mind.
"At Splunk, we believe infrastructure monitoring should be seamless, inexpensive, and easy to administer and use. With that in mind we built some technology, called Project Waitomo, where we iterated on the best ways to deliver on the idea of seamless, inexpensive and easy to use. Many months, early access users and sprints later, we're proud to announce Splunk Insights for Infrastructure," Bill Emmett, director of solutions marketing at Splunk, wrote in a post.
According to the company, system administrators and DevOps teams find it difficult to quickly and easily identify and resolve problems due to the underlying infrastructure. Splunk Insights for Infrastructure aims to solve that problem by providing teams with immediate visibility into system performance.
Features include easy installation, correlated metrics and logs, purpose-built visualizations, intelligent investigations, and the ability to expand to Splunk Enterprise.
"Splunk is credited with inventing log monitoring, and Splunk Insights for Infrastructure reinvents the entire market by making it faster, easier and more affordable than ever for systems administrators and site reliability engineers to identify and correct infrastructure problems," said Rick Fitz, senior vice president and general manager of IT Markets for Splunk. "Splunk Insights for Infrastructure redefines what customers should expect from monitoring and enables them to provide their customers with a positive digital experience while keeping their budgets to a minimum."
The pricing for Splunk Insights is based on storage, and there is a free tier that is sufficient for smaller teams. It offers an upgrade part to Splunk Enterprise so that teams can upgrade as they scale.