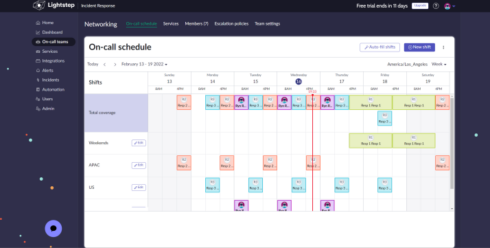 Lightstep announced that it is creating a differentiated portfolio for app development with the general availability of Lightstep Incident Response.
The new solution will enable developers and site reliability engineers (SREs) to reduce downtime through the integration of service context and automation for responding to incidents, such as a software bug, power outage, or down network.
"What we're hearing from developers and SREs is that eliminating 'context switch' – flipping between observability, on-call, collaboration and incident management tools – would reduce human errors and speed up response times," said Rohit Jainendra, the vice president and general manager of emerging businesses at ServiceNow. "With Lightstep Incident Response, we are providing teams with a single platform that orchestrates on-call escalation, alert grouping, incident analysis, and remediation, while seamlessly integrating with collaboration and incident management tools to eliminate 'context switch' and resolve incidents with speed."
The new solution is part of Lightstep's goal towards expanding beyond observability solutions following the company's acquisition by ServiceNow last year. 
To manage on-call rotations for IT teams, Lightstep Incident Response synchronizes everyone's schedule onto a shared calendar, and includes specific tags to denote who needs to be looped in based on the nature of the incident and the service that is impacted.
Collaborators are then invited to dedicated channels based on prebuilt collaboration integrations for quick remediation. They can also create automations that self-triage and self-remediate problems should they reoccur.
Lightstep Incident Response seamlessly integrates with leading monitoring, observability and collaboration tools, including LogicMonitor, Postman, Sumo Logic, Zoom to streamline the incident response process. Also, Lightstep Incident Response natively integrates with the Now Platform for ServiceNow customers.