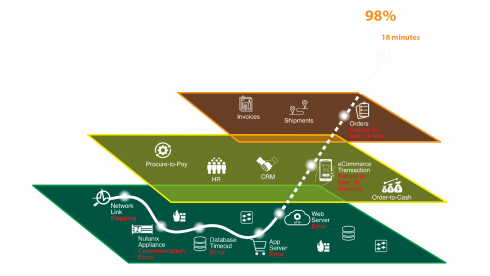 FixStream has announced an advanced version of its predictive IT operations solution designed to predict issues in business apps before they occur. The new AIOps platform uses machine learning algorithms to identify issues that would significantly impact business in a matter of minutes instead of hours, the company explained.
In addition, it uses pattern detection to predict and prevent business outages, increase revenues, improve customer satisfaction, and provide business agility, according to the company.
"It is very challenging for IT teams to pinpoint and resolve these issues due to the increasing growth of real-time business transactions, and the complex nature of today's dynamic hybrid and software-defined technologies. Today's domain-centric tools and technologies make routine IT operations cumbersome and time-consuming, putting companies' business at risk," the company said in a statement.
One of the new machine learning capabilities added is dynamic thresholding and multivariate anomaly detection. IT staff will be able to utilize this to identify a group of anomaly events for transactions, applications, or parts of the infrastructure.
Another feature is that it adds the ability for IT staff to identify and visualize the sequence of correlated events that have impacted specific applications. This allows them to identify patterns to predict future incidents.
It also enables IT teams to analyze historical trends around the utilization of infrastructure resources and predict when that resource will run out of capacity. This allows them to plan ahead and add more capacity before an event would negatively impact the business.
"We are modernizing IT, giving it a seat at the executive table," said Sameer Padhye, founder and CEO of FixStream. "FixStream's multi-layer correlation, visualization and machine learning capabilities across business KPI's, applications and infrastructure is a gamechanger, reducing the complexity of how enterprises identify issues across their IT infrastructure and saving millions in revenue by predicting outages in the future."