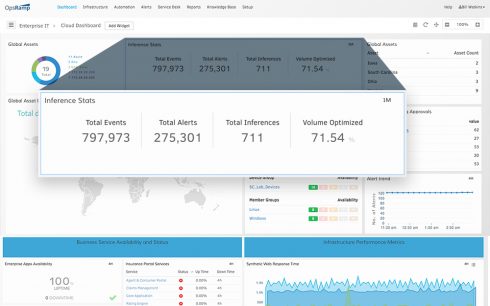 AIOps platform provider OpsRamp is releasing OpsQ, is new intelligent event management, alert correlation, and remediation solution.
The new release will enable IT operations to optimize and automate tasks by understanding the impact of an IT issue and ensure that service is restored as fast as possible. OpsRamp OpsQ uses machine learning models to learn how frequently alert sequences occur and recognize events that are related.
The solution will also allow teams to analyze event streams in real-time, extract insights from events, drive faster deployment and better collaboration, and use proactive detection to reduce downtime.
OpsQ shows root-cause alerts from native and third-party event streams, suppresses non-emergency alerts, escalate critical events, and can integrate with ITSM tools, according to the company.
"Our service-centric AIOps platform represents a fundamental transformation in how IT operations teams maintain business services and deliver exceptional customer experiences," said Bhanu Singh, vice president of product development and operations for OpsRamp. "OpsQ helps enterprises and managed service providers handle previously unmanageable alert volumes, while OpsRamp's service and topology maps let you visualize overall business-service health. Together, they're a modern solution for IT monitoring and management in the hybrid, multi-cloud world."