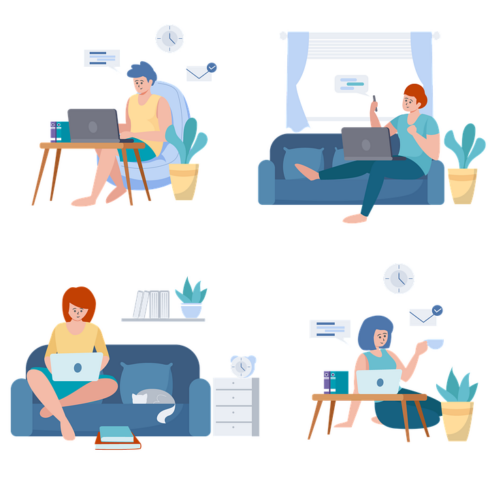 It's obvious that over the past few years, IT teams have been hard at work prioritizing enabling remote or hybrid work. It is still the top priority for a majority of companies.
This is according to a new survey from Pulse and cloud access company Citrix, in which 400 IT and security leaders across North America, EMEA, and APAC responded to questions about their priorities. 
"In 2020, IT was focused on survival amid the great remote work pressure test. In 2021, they overhauled their infrastructure and strategies to accommodate this new model. And in 2022, they will enact flexible technology strategies and workplace policies to deliver what is clearly the future of work," said Meerah Rajavel, chief information officer at Citrix.
Respondents were asked to rank their top five priorities for the next five years, and they said enabling distributed collaboration, ensuring always-on availability, empowering individual focus, providing a consumer-like experience from device to device and location to location, and automating work. 
As companies make their way through digital transformations, however, there are three main challenges they face. Forty-one percent of respondents said that there is a lack of understanding across the business on how to prioritize investments. Thirty-four percent deal with cumbersome and complex infrastructures and 24% say lack of investment in the cloud is a challenge.
In addition, security is a big concern in remote settings. Forty-one percent of respondents said that ransomware attacks were the top risk created by remote and hybrid work. Eighteen percent cited insider threats as a risk, 16% said API or software breaches, and 15% fear phishing or cloud-related attacks. 
Also, while teams are focused on digital transformation and security, they are often being spread too thin. Seventy percent reported working more hours, 56% are leaving, 50% experienced decreased productivity, 49% are less satisfied with their jobs, and 24% are disengaged. 
Moving forward, there are seven key things companies plan to focus on to overcome challenges: 
Bridging the security gap
Managing the pace that technology accelerates with their investments in security
Zero trust network access
Vendor consolidation
Security automation
App protection and browser isolation for SaaS and web apps
Accelerations to SASE
"When it comes to securing a workforce that cycles in and out of the office, ensuring an even playing field for collaboration and supporting employees through what remains a time of unprecedented upheaval, IT can no longer afford to make yesterday's compromises between distributed collaboration and security," Rajavel said. "Instead, they must implement solutions and strategies that help them balance these seemingly competing priorities and chart a new course that allows them to deliver the future of flexible work."