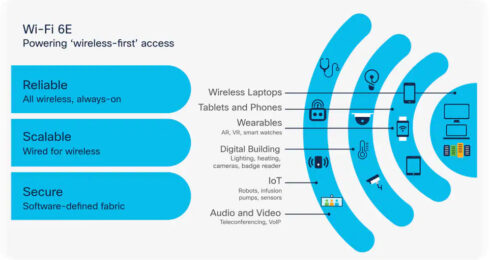 Cisco revealed new innovations across its portfolio, including high-end Wi-Fi 6E access points, private 5G for the enterprise as a managed service, and new high-powered Catalyst 9000X series switches with Cisco Silicon One.
The Wi-Fi 6E access points are from Catalyst and Meraki and offer gigabit performance. According to Cisco, this new offering is the first high-end 6E access point available in the industry. 
Aso, the new Catalyst 9000X switches provide 100G/400G network access, which helps support hybrid work with zero trust security and power efficiency. The new Catalyst 9500X and 9600X Series switches are powered by the Cisco Silicon One Q200.
This comes as part of the company's efforts to help businesses rapidly scale networks and digitize operations to redefine the campus experience to support hybrid work.
"Hybrid work doesn't work without the network," said Todd Nightingale, the executive vice president and general manager of  enterprise networking and cloud at Cisco. "The capabilities of the network empower the capabilities of the workforce. These launches, powered by Silicon One, make hybrid work possible with unprecedented power, reliability, and most importantly, the agility needed to continue to adapt and change with our teams."