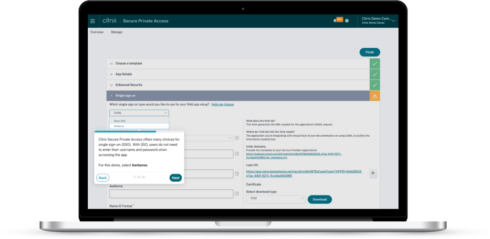 The newly released Citrix Secure Private Access is a cloud-delivered, zero-trust network access offering that allows companies to provide employees access to apps and data that they need, from a variety of device types. 
"The IT pendulum has been swinging toward flexible work models for years, and the pandemic has accelerated the velocity," said John Grady, a senior analyst at Enterprise Strategy Group. "Employees and the applications and gear used to support them have become highly distributed, and to keep them secure, IT leaders need to rethink their approach and look to cloud-delivered solutions that push enforcement to the edge and incorporate zero-trust principles along with centralized policy management to improve their posture."
The solution can provide zero trust network access to all apps, with adaptive authentication to continually evaluate access based on end user roles, locations, device posture, and user risk profiles.
Users can go beyond single sign-on and multi-factor authentication with advanced security controls that are enforced automatically based on device posture and risk factors, Citrix explained. 
They can also use the locally installed workspace browser to easily enforce security controls such as watermarking and clipboard access, while providing a smooth end user experience, the company added.