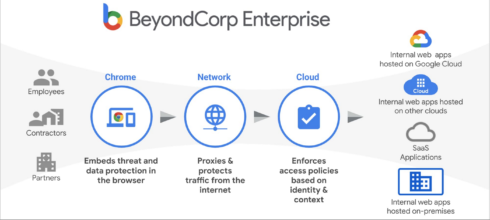 Google announced the release of BeyondCorp Enterprise which extends and replaces BeyondCorp Remote Access for companies to start their own zero-trust implementation. 
The solution includes non-disruptive, agentless support through the Chrome Browser, access to Google's global network, and the entire surface area is protected by Google's scalable DDoS protection service, which has been proven to withstand the largest DDoS attacks in recent times recorded at 2.5 TB, Google explained.
When it comes to security, BeyondCorp Enterprise also offers end-to-end protection such as embedded data and threat protection which has been recently added to Chrome and it prevents malicious or unintentional data loss and exfiltration and malware infections from the network to the browser, according to Google in a blog post.
BeyondCorp Enterprise also has strong phishing-resistant authentication and continuous authorization for every interaction between a user and a BeyondCorp-protected resource.  
The platform was built on an expanding ecosystem of technology partners in the BeyondCorp Alliance which democratizes zero trust and allows customers to leverage existing investments, according to Google. 
"The adoption of zero trust is an imperative for security modernization, and BeyondCorp Enterprise can help organizations overcome the challenges that come with the embrace of such a disruptive innovation," Google added.