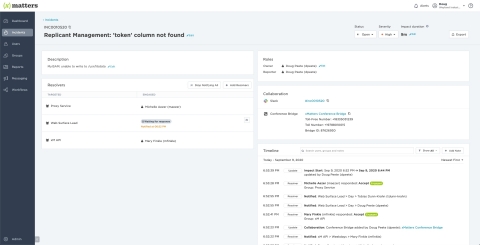 xMatters wants to put an end to antiquated and repetitive management processes with a new vision for advancing incident management. According to the company, overly structured and rigid approaches must end in order to develop and deploy reliable digital services faster. 
"The digital transformation of business, culture and technology raises the complexity of detecting and resolving issues before they become problems," said Shannon Kalvar, Research Manager at IDC. "In order to do so, organizations need to undergo the same transformation in their approach to 'incident management,' dynamically integrating a wide range of human and digital resources to meet the moment when and as it occurs."
xMatters explained that today incident response automation and incident management are crucial to being able to recover quickly, adapt and learn from technical outages and interruptions. In order to keep up, the company is focusing on an adaptive approach to incident management to reduce friction and improve user experiences. 
"Adaptive incident management solves the challenges of responding to service interruptions across different teams, cultures and systems. Whether it's a team-centric software service issue or an enterprise-wide outage, adaptive incident management delivers digital service resilience by automating incident response, facilitating dynamic collaboration and by using data to inform and evolve processes for the most reliable customer experiences," said Troy McAlpin, CEO at xMatters.
As part of its new adaptive approach, the company added new advancements to its platform to improve collaboration, reduce toil with automation, evolve and improve from previous incidents, and create more space for innovation. 
New updates include: 
Incidents views for finding, evaluating and collaborating on incidents as they evolve, and keeping track of incident statuses
The Incident Console to get a live view of an incident as it evolves and view incident status, severity, responders, and associated channels and roles
Incident Status Reports with timelines, key metrics and associated collaboration channels
Critical incident metrics 
Flow Designer automations to keep systems up to date
Incident Timeline to provide a detailed record of what happened and when
Resolved incident metrics so teams can compare information from one incident to the next
Performance Analytics to evaluate cost and impact of incidents and find areas of improvement
"Investing in avoiding known types of incidents is an important part of digital service delivery. However, innovative companies know that eliminating incidents completely is impossible in practice. Our mission, then, is to help customers resolve incidents as quickly as possible and minimize their impact," said Tobias Dunn-Krahn, CTO at xMatters. "We've developed the technology needed to make this happen. Now, customers can access powerful yet flexible applications that build upon our renowned approach to workflow automation, range of integration capabilities and sophisticated enterprise grade features to deliver digital service resilience and continuous improvement. By applying an adaptive incident management methodology, teams can automate incident resolution tasks and maximize the time spent making customers happy."