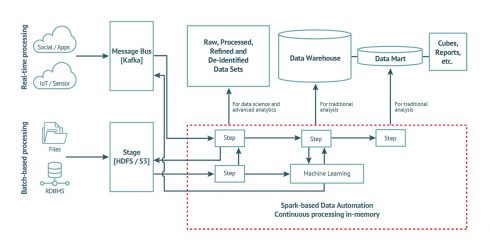 Data infrastructure automation solution provider WhereScape has announced new automated streaming capabilities. WhereScape automation with Streaming is designed to provide IT teams with real-time data flows and processing insight into their existing data infrastructure.
Streaming supports the Internet of Things, sensor data, log files, retail purchases, social media content and other continuously generated data. In addition, IT teams can use the new solution for traditional, batched-based data sources.
"The challenge for IT teams is how to incorporate these new data sources and streaming technologies into existing analytic environments to make them quickly and easily accessible to the business. When automation supports streaming data, it minimizes the learning curve for IT teams and reduces the complexity of managing a hybrid of streaming and traditional batch-based data. With automation, you can deliver real-time data at the speed of the business," the company wrote on its website.
According to the company, being able to provide real-time insight as teams are designing, developing, deploying and operating data infrastructure is crucial to managing the complexity and amount of data organizations are gathering today.
"Businesses understand the significant potential that being able to take advantage of real-time data offers to their organizations. However, IT teams – already stretched for time – now face the added challenge of understanding and incorporating these new data sources and streaming-related technologies into their analytics environments," said Mark Budzinski, CEO at WhereScape. "WhereScape automation can ease the learning curve and process of integrating this new data paradigm."