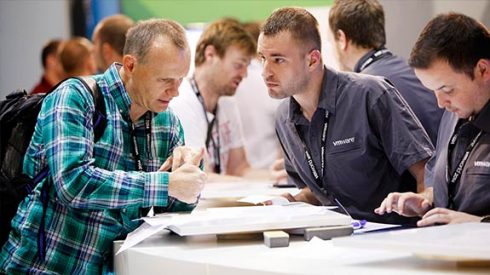 The 2019 IT conference VMworld kicked off in San Francisco this week, and a number of companies are using the event as an opportunity to show off their latest releases.
Prior to the event, VMware also announced intentions to acquire both Pivotal and Carbon Black. According to the company, these acquisitions show VMware's commitment to cloud-native technologies.
Here are a few highlights from this week's event:
Dell introduces new products and support for VMware
Dell Technologies announced support for VMware PKS, which will allow organizations to deploy, run, and manage Kubernetes for critical workloads alongside traditional applications.
It also released a data center-as-a-service solution called VMware Cloud on Dell EMC. Dell believes that this will provide the benefits of subscription-based pricing of the cloud with the "security, control and performance of on-premises infrastructure."
Bitdefender's GravityZone Security for Virtualized Environments now available on VMware Cloud Marketplace
Cybersecurity provider Bitdefender has announced that its GravityZone Security for Virtualized Environments is now available on VMware Cloud Marketplace. This will make it easier for organizations to add the solution to servers running on-premises and in VMware Cloud on AWS.
"We're excited to have GravityZone available on VMware Cloud Marketplace," said Andrei Florescu, director of product management, datacenter and cloud security at Bitdefender. "GravityZone consolidates industry-leading workload-security capabilities for a variety of VMware environments—from vSphere to VMware Cloud on AWS to NSX-T. GravityZone helps VMware customers solve the security vs. operational efficiency and infrastructure performance dilemma by maximizing protection, automating security administration, and increasing ROI on VMware infrastructure."
Druva's data protection platform now certified for VMware Cloud on AWS 
Druva has announced that its data protection platform is now certified for VMware Cloud on AWS. The solution is also now available in the VMware Cloud Marketplace.
"We are pleased to see Druva's data protection and management solution available on VMware Cloud Marketplace," said Milin Desai, GM of cloud services at VMware. "Validated technologies, such as Druva, enable IT teams to reduce cost, increase efficiency, and create operational consistency across cloud environments. We're excited to work with partners such as Druva to empower customers to fully leverage their cloud investments."
FireMon launches GPC for NSX
FireMon has announced the release of its Global Policy Controller (GPC) for NSX. GPC provides network policy enforcement across a variety of environment types.
According to FireMon, GPC for NSX can "interpret, visualize and manage firewall policies and compliance across VMware NSX and multi-vendor firewall environments." The solution also has a compute engine that is optimized for VMware NSX environments.
Adaptiva launches OneSite VMware Edition
Endpoint management solution provider Adaptiva has announced a new version of its OneSite product. This new release is designed specifically to run in VMware's Workspace ONE platform. It will allow organizations to quickly distribute software from the cloud at scale without negatively impacting the network.
Key features of this new version include single download capabilities, intelligent storage, and predictive bandwidth storage.