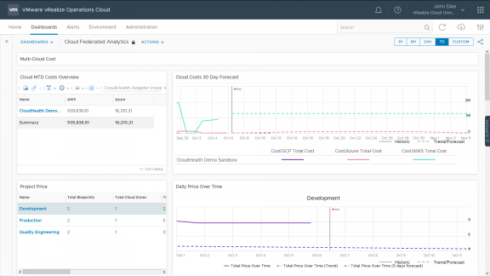 VMware has announced updates to its portfolio designed to give its customers more capabilities for monitoring, securing, optimizing, and automating their VMware cloud and public cloud services. 
VMware vRealize Automation 8.4 introduces enhanced public cloud provisioning support, vRealize Automation SaltStack Config integration, network automation with NSX-T migration support, and self-service automation for VMware cloud on AWS. 
Its AIOps solution VMware vRealize Operations 8.4 adds new features like increased AWS services support, enhanced VMware Cloud on AWS Costing, enhanced cost flow optimization, What-If Planning for AWS, and support for Telegraf Agent. 
VMware vRealize Log Insight 8.4 and vRealize Log Insight Cloud will introduce more efficient storage partitions and observability features. A new feature called Log Partitions will enable customers to segregate data into either active or archive partitions. Active partitions are intended for high-performance data storage, and archive partitions are intended for low-cost data storage. 
The company also updated vRealize Network Insights to provide optimized application discovery. New features in the 6.2 release include improved network visibility for VMware Cloud on AWS, new network visibility for Google Cloud VMware Engine and Azure VMware Solution, machine learning flow-based application discovery, and enhanced assurance and verification. 
VMware Skyline also got an update and now provides proactive Findings and Recommendations, Log Assist enhancements, and improved email notifications. 
"Enterprises are adopting a multi-cloud approach for choice and flexibility but face the challenge of deploying, managing and better securing their apps across clouds," said Purnima Padmanabhan, senior vice president and general manager, Cloud Management, VMware. "VMware makes this complexity of managing clouds invisible. By providing consistent costing, security, governance, operations and service automation across clouds, VMware enables customers to achieve higher application and business agility."