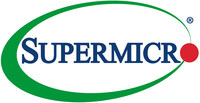 The IT manufacturing company Supermicro has announced new servers designed for edge workloads.  
One of the new servers is a Supermicro X13 Edge server, called the SYS-211E-FRN13P. It is capable of meeting the demands of vRAN and private 5G environments. It comes with a 4th Gen Intel Xeon Scalable processor and Intel vRAN Boost for vRAN acceleration, an onboard network interface and 12 SFP25G ports, timing support with eight hours of holding time, and a compact design. 
According to Supermicro, these capabilities and features optimize the server for cost, size, and power usage. 
Another server that the company is releasing is a 4-node version of the SuperEdge server. This server is designed for managing workloads at different remote network locations. 
Each node includes a single-socket 4th Gen Intel Xeon Scalable processor. Each node also runs independently of the others, allowing the server to run multiple workloads in parallel with dedicated resources for each. 
The company also announced the release of several new compact edge systems: the SYS-521AD-TN2 mini-tower, the E102-13R, and the E302-12A systems.
The SYS-521AD-TN2 mini-tower is designed for video processing, streaming, and storage. The E102 is designed for AI inferencing, retail, and signage workloads. And the E302 is designed to provide cost-efficient performance with a low-noise form factor. 
"We are very excited to deliver all-in-one servers for the next generation of telco and edge deployments for vRAN and private 5G environments," said Charles Liang, president and CEO of Supermicro. "Our range of telco offerings allows for a more streamlined deployment at scale, which will expand the use of these new technologies to deliver more effective and reliable communication networks at scale."