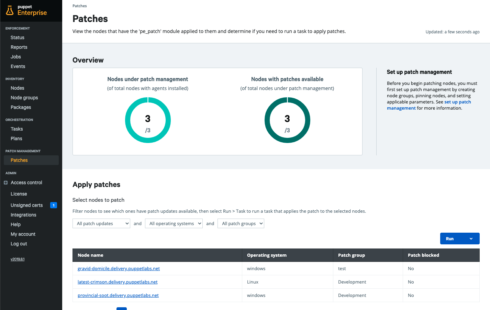 Puppet is updating its infrastructure delivery and management solution with new orchestration capabilities, pre-built patching automation, and more infrastructure flexibility. Puppet Enterprise 2019.8 LTS allows users to leverage thousands of open source and Puppet-built modules on Puppet Forge, and expand automation to more infrastructure use cases. 
"Application deployments are increasingly waiting on DevOps and platform teams to carry out complex sequences of infrastructure configuration, which, when done manually, also increases the risk of errors and disruption," said Abby Kearns, CTO of Puppet. "These teams start off making fast progress with basic automation tools, but hit a roadblock once requirements become more complex. Puppet now provides a growth path from the fast start of Puppet Bolt and Puppet Forge content to powerful orchestration workflows to deliver on our promise of continuous automation."
The new pre-built patching task automation capabilities is available for Windows and Linux systems and enables users to use and share patching automation. The release also features a new OS patching service to help standardize and scale patching processes, the company explained. 
"This automated workflow eliminates manual patching processes and offers a simplified way to patch systems to their healthy state. With visibility into all patches across your estate, customers now have the advantage to use one tool to apply patches," Alexa Sevilla, senior product marketing manager at Puppet, wrote in a post. 
Other features include:
A new navigation and console experience
Performance improvements and increased scalability
Pre-upgrade checks
Automated patch management
Orchestration for complex workflows
Automated orchestration capabilities with Puppet Forge