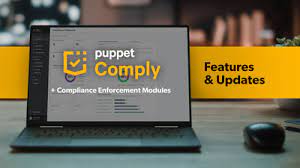 Puppet by Perforce has announced the release of Puppet Comply 2.14.0, the latest version of the company's tool for making sure infrastructure is secure. The company also announced updates to its Windows and Linux Compliance Enforcement Modules (CEM), which are policy-as-code modules that align with industry security benchmarks.  
According to Puppet by Perforce, the escalation of IT footprints across both private and public clouds, the enlarging threat landscape, and surging regulatory demands have rendered manual approaches to IT compliance and security increasingly inadequate. 
These escalating issues potentially disrupt operations from the initial provisioning to the final enforcement and remediation. In Puppet's 2023 State of DevOps Report, it was revealed that for over 40% of businesses, automation of governance, security, and compliance processes is a top priority for their platform teams. Enhanced visibility and swift remediation not only reduce a company's risk profile but also soften the impact of non-compliance or a security incident.
"With cybersecurity expertise in high demand and a lack of professionals to fill this space, everyone from developers to operations needs to make security and compliance a priority. It's not just a nice-to-have for Day 1 and Day 2 operations – it's a must," said Claire McDyre, product manager at Puppet by Perforce. 
Puppet Comply and CEM fit into Day 1 and Day 2 operations by providing compliance verification through policy as code during Day 1 operations to ensure servers are initially provisioned with a secure configuration.
The new compliance features enforce servers' desired state using popular security standards like CIS Benchmarks and DISA STIGs as a baseline to achieve compliance with regulations and frameworks. It also frequently reevaluates and remediates the configuration drift during Day 2 operations. 
In addition, Puppet Comply delivers continuous compliance monitoring, offering a comprehensive status view across hybrid infrastructure. Both Puppet Comply and CEM function as extensions of Puppet Enterprise.
"Puppet compliance assessment and remediation automates and simplifies alignment with consensus regulatory standards and security processes by breaking down silos between teams. The solution allows teams to define their safest configurations against expert-declared security standards, empowering them to enforce those configurations continuously and stay ready to share proof of compliance when audit time comes," McDyre added.