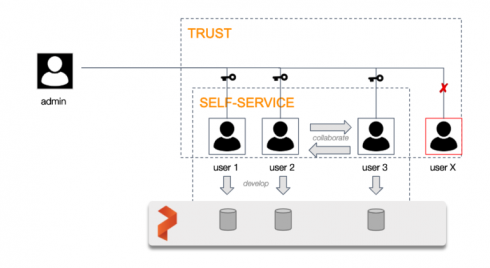 Portworx has announced the latest release of its cloud-native data management platform. According to the company, Portworx Enterprise 2.1 includes new features for security and disaster recovery.
The company added new role-based security features to PX-Security. Previously, PX-Security had granular "bring-your-own-key" encryption. By extending the solution to include role-based authentication, authorization, and ownership, organizations will now be able to set access controls on a "per container data volume basis," the company explained
Portworx also added two additional levels of data protection with the introduction of PX-DR. PX-DR offers disaster recovery with zero data loss between data centers in metropolitan areas. For geographically dispersed data centers, it performs continuous incremental backups to provide an additional level of disaster recovery.
"Adoption of container technologies is rapidly increasing in the enterprise, with nearly half of businesses already running apps on Kubernetes in production. But Kubernetes alone is not able to meet the complex requirements that today's businesses face," said Murli Thirumale, co-founder and CEO of Portworx. "Unless Kubernetes can be augmented to meet the requirements of mission-critical enterprise  applications — data security, data protection, backup and recovery, SLA management, and compliance — its power to drive digital transformation will be incomplete. Portworx is solving the hard, non-negotiable business requirements for running data services in containers with the aim of enabling complete digital transformation."
In addition to releasing Portworx Enterprise 2.1, the company also announced that it has closed a $27 million Series C funding round, bringing its total funding to $55.5 million. It will use the new funding to expand into new global markets, continue development on Portworx Enterprise, and expand its engineering, sales, and channel teams.
This funding round was co-led by Sapphire Ventures and Mubadala Investment Company. Existing investors Mayfield Fund and GE Ventures also participated, and the company also received new funding from Cisco Investments, HPE, and NetApp.