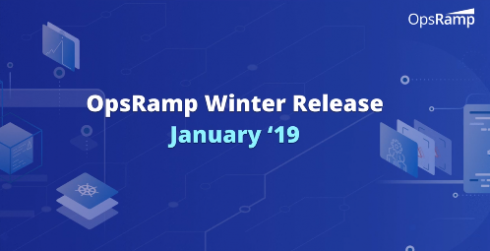 OpsRamp has announced new features across its AIOps SaaS portfolio. Its Winter Release introduces new topology maps, enhanced AIOps features, and new monitoring capabilities for cloud-native workloads.
The new topology maps include application topology; hypervisor topology for virtual machines, hypervisor servers, and clusters; and enhanced service maps with a new user interface for identifying underlying resources in IT service outages.
The company has added new features to OpsQ, its intelligent event management engine, including auto-incident creation and routing, augmented training for inference models, and frequency-driven alert escalation.
OpsRamp has also added new cloud monitoring capabilities, such as discovery and monitoring of Kubernetes environments across services such as Azure Kubernetes Services, Google Kubernetes Engine, and Amazon EKS. In addition, the solution can now collect, aggregate, correlate, and escalate AWS events.
Other new features in this release include patch management capabilities, synthetic transaction and SSL certificate monitoring, integrations for monitoring open-source applications, and knowledge base enhancements, the company explained.
"Our Winter Release will support digital operations teams on their journey to cloud and cloud-native architectures with enhanced AIOps capabilities for reduced mean-time-to-resolution," said Mahesh Ramachandran, VP of product management for OpsRamp. "We want to keep IT infrastructure teams focused on offering the best customer experiences and delivering value back to the business."