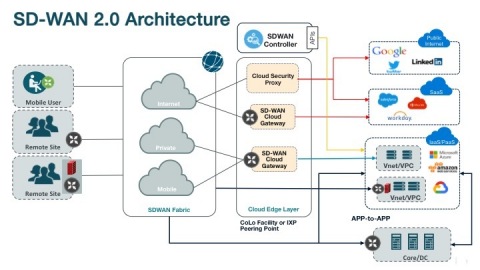 In an effort to drive SD-WAN standards IT organization ONUG and international industry consortium MEF are teaming up on a new initiative. Their joint collaboration will help ensure that enterprises have SD-WAN services that are optimized for digital transformation in the hybrid cloud era. 
"As adoption of SD-WANs accelerates, enterprises will increasingly choose managed services as a delivery model," said Lee Doyle, principal analyst at Doyle Research. "This collaboration between ONUG and MEF brings together key stakeholders to lead the market in developing SD-WAN standards, which will be critical to enabling the widespread adoption of SD-WAN services."
According to the two companies, MEG will utilize ONUG's multi-cloud user requirements to speed up the development of MEF 3.0 SD-WAN standards and certification programs. Technology vendors, users, and service providers will be able to engage in a formal process to drive this development.
This work will lead ONUG to develop reference solutions for SD-WAN deployment scenarios. This will be beneficial because it will provide blueprints to IT business leaders for evaluating alternatives and accelerating SD-WAN adoption, the companies explained. 
Initial focus areas of the collaboration include ONUG SD-WAN 1.0 service models and API specification, ONUG SD-WAN 2.0 multi-cloud integration use cases, application security for SD-WANs, and intent-based networking and service automation for SD-WANs. 
"ONUG is eager to help define MEF 3.0 SD-WAN managed service standards to ensure that they address the critical requirements of the Global 2000 on their digital transformation journey," said Nick Lippis, co-founder and co-chairman of ONUG. "The ONUG board welcomes communications service providers and managed service providers to join the ONUG Community and participate in the development of SD-WAN reference solutions, based on MEF standards, that will be featured in proof-of-concept demonstrations at future ONUG and MEF events. This collaboration between our organizations will be instrumental in helping enterprise technologists accelerate their adoption of SD-WAN products and services."