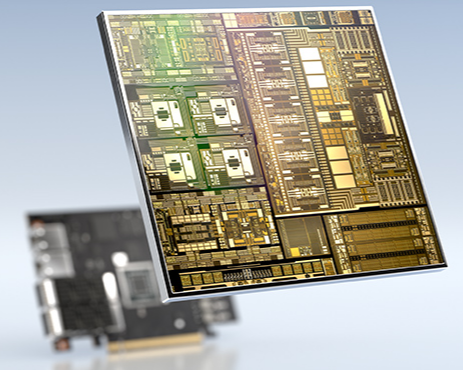 NVIDIA has announced a number of new product announcements and updates at the GPU Technology Conference.
Here are a few highlights:
New processor featuring a data-center-infrastructure-on-a-chip architecture (DOCA)
The new BlueField-2 DPU will enable breakthroughs in networking, storage, and security performance, NVIDIA explained. 
The new processor is optimized to offload critical networking, storage, and security tasks from CPUs. One BlueField-2 DPU is able to deliver data services that otherwise would require 125 CPU cores.
"The data center has become the new unit of computing," said  Jensen Huang, founder and CEO of NVIDIA. "DPUs are an essential element of modern and secure accelerated data centers in which CPUs, GPUs and DPUs are able to combine into a single computing unit that's fully programmable, AI-enabled and can deliver levels of security and compute power not previously possible."
Omniverse open beta announced
Omniverse is a 3D simulation and collaboration platform. Remote teams can use the platform to collaborate on projects like 3D building design, revising 3D animated scenes, and autonomous vehicles.
Omniverse is based on Pixar's Universal Scene Description (USD), which is a leading format for interchange between 3D applications. It also uses NVIDIA technology, like real-time photorealistic rendering, physics, materials, and interactive workflows.
Previously the platform was in early access, where companies like Ericsson, Foster + Partners, ILM, and 40 others have evaluated and provided feedback on the platform. 
NVIDIA DGX SuperPOD Solution for Enterprise announced
The solution is a turnkey AI infrastructure that allows organizations to install AI supercomputers in just a few weeks. 
NVIDIA DGX SuperPOD Solution for Enterprise is available in cluster sizes ranging from 20 to 140 individual NVIDIA DGX A100 systems. The systems start at 100 petaflops of AI performance, and can be scaled up to 700 petaflops. 
"Traditional supercomputers can take years to plan and deploy, but the turnkey NVIDIA DGX SuperPOD Solution for Enterprise helps customers begin their AI transformation today," said Charlie Boyle, vice president and general manager of DGX systems at NVIDIA. "State-of-the-art conversational AI, recommender systems and computer vision workloads rapidly exceed the capabilities of traditional infrastructure, and our new solution gives customers a fast track to the world's most advanced, scalable AI infrastructure and NVIDIA expertise."