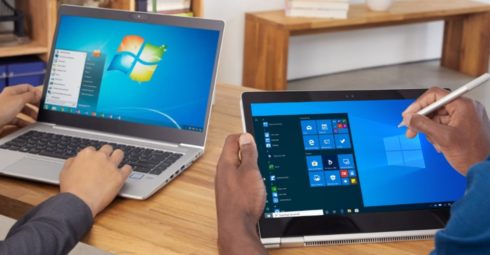 Microsoft has announced it will no longer provide free security updates, patches or technical support for Windows 7 after January 14th. Additionally, Microsoft will be retiring free support for Office 365 ProPlus on Windows 7, and the next Adobe Creative Cloud update will not support older versions of Windows.
More than 38% of users and very small businesses as well as 47% of small to medium sized businesses and enterprises are still running Windows 7, according to a recent report from security company Kaspersky.
"Statistics show that a significant share of users, both individuals and businesses, still use workstations running outdated or approaching end of lifecycle OS," said Alexey Pankratov, enterprise solutions manager at Kaspersky. "The reasons behind the lag in updating OS vary depending on the software in place, which may be unable to run on the newest OS versions, to economic reasons and even down to comfortability of routinely using the same OS."
According to Mike Puglia, chief strategy officer for the IT management software and monitoring solutions company Kaseya, companies who do not migrate to Windows 10 will be putting their business at significant risks.
"Consider that in 2018 alone, 499 vulnerabilities were detected across Windows desktop operating systems with almost 170 of those incidents considered critical. In fact, one in three data breaches globally are the result of unpatched vulnerabilities," he said. "Migrating to Windows 10 is the only real long-term solution for businesses."
Microsoft suggests enterprises migrate to Windows 10 Enterprise E3, which will provide the latest protection, productivity and advanced IT tools. Windows 10 Enterprise E3 also features intelligent security, simplified updates, flexible management capabilities, and built-in
In addition, Puglia explained that Windows 10 offers a Classic Shell program, that can make Windows 10 look and feel like its predecessors.
"Among the top benefits are a familiar and easy to use core interface across all Windows devices, streamlining day to day use. It even has a usable touch screen mode to boot. Windows 10 is also more secure than any of Microsoft's previous desktop OS versions, featuring new enhancements for advanced biometrics, threat protection, malware protection, and trusted hardware," he said. "With the deadline quickly approaching, it's important to start planning immediately to avoid unnecessary risk to your business. Take inventory of your IT environment, examine your options and consult an expert, like a managed services provider, if your team is unsure."